WATCH! Danai Gurira Announces Departure From 'The Walking Dead' At Comic-Con International And Fans Go Wild
Attendees were both saddened and congratulatory in reaction to the announcement.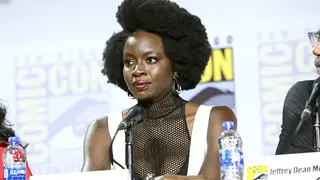 Danai Gurira is bidding farewell to The Walking Dead after acting in seven seasons of the AMC flagship series.
There had already been rumors that the actress was stepping away from the show, and now, fans of the program got to hear first hand why she decided to leave.
"I can confirm that this is the last season I will be on this amazing TV show as Michonne," she told a stunned crowded audience at 2019's Comic-Con, before ultimately getting a standing ovation. "I would just like to say that this has been one of the purest joys of my life to play this role and to be amongst these people and those who are not here right now and amongst all of you. I'm very thankful for the experience I've had in ways I can't state right now. My heart does not leave in any way, shape or form. The TWD family is forever. The connection between us never ends.
"It was a very difficult decision," she added. "It is not connected to my heart. My heart stays right here. It was about my calling and other things I feel called to. The opportunities I've had, exploring it as a creator of work. I'm filled with a lot of pain about leaving and a lot of gratitude. I am thankful to all of you. I love you guys, and I love this show. The TWD family is forever."
BET was in the audience for the announcement and captured it all on video.
Danai Gurira's days as Michonne will reportedly end in season 10. The famed actress played the katana-wielding zombie killer since the program's third season.

Danai becomes the second actor to announce their departure from TWD in two years at Comic-Con. Last year, Andrew Lincoln used the same stage to bid farewell in favor of reprising his role as Rick Grimes in three AMC TV movies.

Season 10 of The Walking Dead is expected to start October 6.