'Martin' Reunion: Tisha Campbell Reveals Why A Revival Remains Up For Consideration
BET.com sat down with Campbell about why young Black love was important to see on screen and if the cast is planning on bringing Martin back for its fans.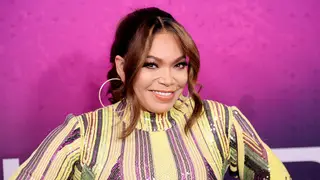 Wazzup, Wazzup, Wazzuup!! For those that don't know the official Martin: The Reunion is premiering on BET+ on Thursday (June 16) and with 30 years of representing Black culture under its belt, the cast of the popular show is coming together to walk down memory lane.
Iconic surviving cast members starring Martin Lawrence ("Martin"), Tisha Campbell ("Gina"), Tichina Arnold ("Pamela") and Carl Anthony Payne II ("Cole") will all be in attendance for the reunion, while a special segment will honor the late Thomas Mikal Ford, who played Martin's best friend Tommy in the series. Ford died in 2016 at the age of 52.
​​"He was our glue, Tommy was our spiritual guru on the set, he was the person who set the tone," Campbell said. "He's the person who prayed with us before we went out and did a show."
BET.com sat down with Tisha Campbell to chat about how it felt to be alongside her castmates again, why young Black love was important to see on screen and if the cast is planning on bringing Martin back to the big screen.
BET: Tisha, Martin fans are eagerly anticipating the Martin: The Reunion show premiering on June 16! Many would say it's been a long time coming. What was it like getting everyone back together again, on an identical set?
Tisha Campbell: We missed Tommy so that was really hard for us, but it was like, we were about to start work the next day, like, getting ready for work. We were laughing, [and] talking about the past, it was really dope.
BET: For the reunion, you're joined by Martin Lawrence, Tichina Arnold, and Carl Anthony Payne II, but sadly Thomas Ford passed away in 2016. What do you think he'd think of everyone getting back together in this way?
Tisha: He would be so incredibly proud and so happy, and I think he'd be even more happy that we made sure that he was not forgotten, along with his family being there and making sure they were there.
BET: Martin and Gina will forever be a part of the history of Black love on television. They were so different and yet so good for each other. Why do you think that relationship worked?
Tisha: Most of the time [viewers] were used to seeing an older version of what love was, like [with Cliff] and Claire Huxtable. They weren't used to seeing a younger version. One that [was still] figuring it all out, that's just getting established.
It really resounded with people's hearts and then the friends that surrounded them, it reminded people that love is real, Black love is real and they can have it, because it's never been represented before. Seeing us loving one another, figuring out with our friends, what life is all about, and getting through the bad times. It was important to see.
BET: Was there a particular scene or episode from the show's five seasons that was your all-time favorite?
Tisha: It was either the plumber episode or the [first] Halloween episode. To see Carl and Martin working together on the plumber episode, their chemistry was crazy! But when we were all together [on set] there was so much magic that would happen.
BET: With the reunion complete and that good old feeling reignited, what are the chances that we could see Martin come back as a series, a drama, or even as a film.
Tisha: It's not. It's really hard for us to envision anything without Tommy Ford but hopefully, one day maybe we'll figure something out I really don't want to mess with the magic that it already is. So I don't see it in the near future.
BET: What do you think Martin and Gina's kids' names would be? And would Sheneneh be the godmother, babysitter or neither?
Tisha: Oh my gosh! [That's the hardest] question ever. I think they'll have a girl and a boy, one would be named Gina Tay. And then the other one would be named MJ, Martin Jr., and then Sheneneh better not come anywhere near my goddamn kids.
BET: Tell us about some of the other projects you are working on…
Tisha: I'm working with Netflix on Inside Job, which is an adult animated cartoon, as well as this show with Neil Patrick Harris also on Netflix called UnCoupled, which I'm really excited about. It's really different! UnCoupled is executive produced by Darren Star who created Sex in the City. And it was the first time I really got to work with so many [talented entertainers], some people have EGOT's, some have Tony's, others have Oscars. [I'm also working] on DC's Harley Quinn, I play a character in [the project] as well.
BET: How do you plan to celebrate/honor Juneteenth this year or how have you done so in the past?
Tisha: I'm going to be doing a show called Snap with Eric Benét who created the show for AMC. He's a singer, but he's also an amazing producer. I don't want to give [too much] away, but it's so good. Aesthetically, it's such a pleasing [and] amazing show to watch. It hasn't come out yet but I'm excited about that!
Don't forget to tune into the 90-minute Martin: The Reunion special only on BET+ on June 16!
This interview has been edited and condensed for clarity.