GOP Sen. Tommy Tuberville Accused Of Making Racist Statement About Reparations
The Republicans are using a racially divisive message about crime to win elections.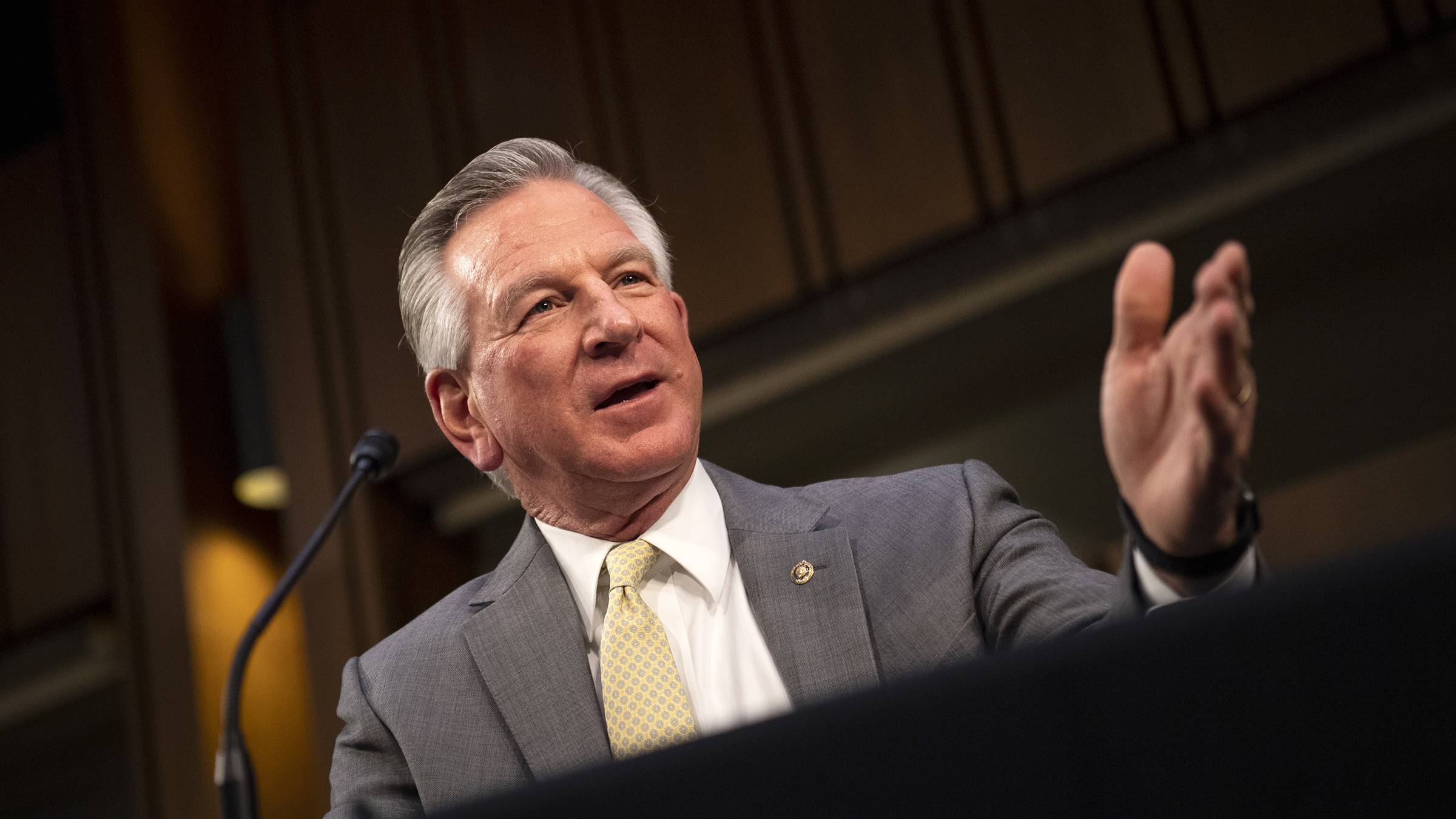 Alabama Republican Sen. Tommy Tuberville threw red meat Saturday night to the crowd at a Trump rally in Nevada when he pushed the racist narrative that Black people are criminals. He denounced reparations to the descendants of slavery in America in the context of the GOP's strategy of making crime a key campaign issue.
"They're not soft on crime," Tuberville said of Democrats, according to the Associated Press. "They're pro-crime. They want crime. They want crime because they want to take over what you got. They want to control what you have. They want reparation because they think the people that do the crime are owed that."
Rep. Don Bacon, a Nebraska Republican, declined to call Tuberville's comments racist when asked about them on NBC's Meet the Press. Bacon suggested that the message was correct but should have been said politely.
"That's not the way I present things," Bacon stated on the Sunday morning political talk show. "But got to be honest that we have a crime problem in our country."
But Rev. Al Sharpton called Tuberville's comments "patently racist" to equate crime with reparations and "offensive and insulting to all Americans, Black and white."
"I think it is absolutely inexcusable, and the fact that no Republican leader of any kind of gravitas and any kind of standing would even denounce this shows why Blacks have looked at the Republican party leadership of today in the way we do," Sharpton stated on MSNBC's Yasmin Vossoughian Reports.
A video of Sharpton's full comments is below:
The stereotype of Black Americans as criminals is false, according to FBI data. An FBI report released in December 2021 stated that whites accounted for more than half (50.8 percent) of known offenders in 2020, compared to 29.6 percent of Black Americans that year.
At the same time, innocent Black Americans are seven times more likely than white Americans to be falsely convicted of serious crimes, according to a new study published on Sept. 27 by the National Registry of Exonerations, shining a spotlight on a pattern of pervasive racism in the criminal justice system.
According to The New York Times, Republicans are ramping up their focus on crime and public safety in the final weeks before the 2022 midterm elections. GOP strategists seek to capitalize on voters' fears about safety after the COVID-19 pandemic fueled a crime surge. It's a strategy often criticized as racially divisive.
In 2021, Biden supported studying reparations, as the pandemic laid bare the racial disparities in access to quality health care, income, education, criminal justice and other areas in systems that many say have institutionalized racism.