Rihanna Just Pulled A Major Instagram Move On Solange, And Here's What Fans Are Suspecting
The Navy is in a state of emergency.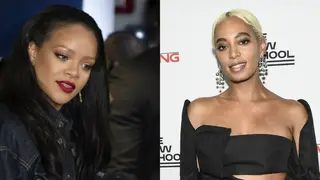 For the Navy, surviving the wait for a ninth studio album from Rihanna has been like enduring a serious drought. Little trickles pertaining to her imminent return to music have barely kept fans satiated and afloat.
Nevertheless, the Navy has persisted even if precipitously so. Just when things were reaching a critical level, the Navy got a flood of information that gave them a more intimate glimpse into how much closer we are to R9 actually coming to fruition in 2019.
Sources close to the Bajan pop star told HollywoodLife about the status of her ninth project, namely that RiRi and her label were heavily considering dropping her album on a major holiday and that the multi-hyphenate already has a name in mind for the purportedly dancehall-and reggae-inspired album.

Well, the rumor mill was spinning again this week after some very sneaky interactions between Rihanna and Spotify. First, she started following Spotify on Instagram. Then, the streaming platform decided to stir the pot with some playful teasing. 

They posted a series of pictures to their Instagram of Rihanna that whipped fans into a frenzy over all of the speculation. On Tuesday (July 31), they posted a photo of RiRi alongside an iffy caption that poured more gas onto the proverbial fire. 

"Hi @badgalriri," they wrote with the hand wave emoji. They followed that by posting a picture of Rihanna's song "Where Have You Been," which really set fans off. It's literally the question that's been on everybody's minds, so naturally everyone is on high alert. On top of that, Rihanna supposedly unfollowed Tidal.

The R9 chronicles took another twist on Wednesday (July 31) when a fan account, The Pop Hub, noticed that Rihanna suddenly started following another darling artist. The account posted a screenshot on Twitter showing where RiRi was now following Solange, who came out of her music recluse to bless us with her transcendent, country-inspired album, When I Get Home, earlier this year. 

Are all of these music-related incidents just a coincidence or another playful moment from Rihanna? Fans will have to wait to see, but if not, Solange and Rihanna might be the team-up of the year that nobody saw coming. Whew, chile. It has truly been a week for the Navy.

While they wait for a final consensus from Rihanna, fans are casting their predictions and hedging bets for when they think R9 is coming.