Obama Targets His Campaign Message to Core Voters
President Obama tries to rally young Black voters to the polls.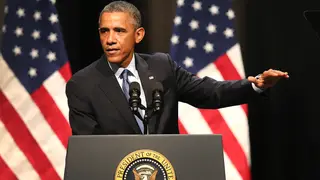 WASHINGTON (AP) — His political influence limited, President Barack Obama is pursuing core Democratic partisans and is narrowing his public campaigning to a handful of reliably Democratic states to mobilize voters who tend to stay home during midterm elections.
"I've got to have a Congress that will work with me. That's why this midterm is so important. This is as important as any election that's taken place since I got elected president," Obama told The Steve Harvey Morning Show Wednesday.
Hamstrung by low approval ratings and congressional candidates who want to keep their distance, Obama was kicking off the campaign's final three-week push by pitching black radio listeners and holding a rally in Connecticut, a state that tends to vote Democratic and which he won in twice.
Obama told Harvey that young, minority and progressive voters did not turn out in large numbers in the last midterm, allowing for the Tea Party wave that has been fighting his agenda "every step of the way." Obama said many of Harvey's listeners probably aren't thinking about the election, but "I need everybody to really pay attention to this thing."
In his first major campaign event of the fall, Obama was to appear at rally Wednesday evening for Gov. Dannel Malloy in Bridgeport, Connecticut, aiming to mobilize core Democratic voters who remain loyal and enthusiastic supporters of the president. The Connecticut governor, like many other Democrats in this midterm election, is locked in a dead-heat re-election race.
When it comes to finding useful places for Obama to stump with a candidate, the pickings are slim. Many of the most imperiled Democrats, particularly Senate incumbents, are running in typically Republican states where Obama is deeply unpopular. Few of those Democrats invoke the president's name except to distance themselves from him.
So in a way, Wednesday's rally is an opportunity for Obama to also demonstrate he remains politically relevant. The Connecticut governor's race is perhaps the best place to start.
It's a Democratic state Obama won easily in 2008 and 2012. And with Democrats outnumbering Republicans in the state, energizing core voters is essential to Malloy's survival against Republican Tom Foley.
"It's a state that Obama carried by 18 points two years ago," noted former Obama senior adviser David Axelrod. "As everywhere, Malloy's challenge will be to fight midterm drop-off among Democratic voters, and the president can help with that."
What's more, governors are a step removed from Washington and thus less likely to be held accountable for a president's federal policies.
Underscoring that calculation, Obama planned to campaign Sunday in Maryland for Democratic gubernatorial candidate Anthony Brown and in his hometown of Chicago for Illinois Gov. Pat Quinn. Obama will spend the last full week of the campaign appearing at public events for Democratic candidates for governor in Michigan, Wisconsin, Pennsylvania and Maine, a White House official told The Associated Press. The official wasn't authorized to comment by name and demanded anonymity.
In contrast, Democrats running in Senate races in such Republican states as Arkansas, Alaska and Kentucky have made it clear they don't want to be seen with Obama. Alison Lundergan Grimes, the Kentucky Democrat seeking to unseat Senate Republican leader Mitch McConnell, won't even say whether she voted for Obama.
Democratic Sen. Mary Landrieu of Louisiana has run ads declaring Obama's oil and gas policies "simply wrong." Democratic Sens. Mark Begich of Alaska and Mark Pryor of Arkansas also have aired commercials taking note of their differences with Obama.
For Obama, Connecticut's Malloy represents a refreshing foil to those Senate candidates.
Malloy has succeeded in his own state in pushing policies Obama has been unable to do at the national level, such as increasing the minimum wage and enacting tougher gun control measures.
Obama's visit Wednesday reprises a 2010 campaign stop for Malloy, who was then also locked in a tight race with Foley. The goal remains the same.
"The president isn't really going to get people who are on the fence off the fence," said Connecticut-based Democratic consultant Matt Hennessy. "This is more about exciting urban voters."
The risk in any state is that an Obama appearance could backfire, motivating Republicans to vote. Hennessy said there were Connecticut Democrats who pushed to have first lady Michele Obama campaign for Malloy instead of the president. But he said the anti-Obama Republican vote in Connecticut is already at its maximum.
"There aren't voters for them to excite who aren't already excited," he said.
Obama is not Malloy's only big draw. Former President Bill Clinton campaigned for him Monday.
Foley, a former ambassador to Ireland who counts New Jersey Gov. Chris Christie and Louisiana Gov. Bobby Jindal in his corner, dismissed Malloy's presidential firepower.
"I think it shows the governor can't win this election on his own," Foley said. "He's got to bring other people in to try and get people excited about voting for him. I just don't think it works."
Associated Press writer Susan Haigh in Rocky Hill, Connecticut, contributed to this report.
BET Politics - Your source for the latest news, photos and videos illuminating key issues and personalities in African-American political life, plus commentary from some of our liveliest voices. Click here to subscribe to our newsletter. 
 (Photo: Scott Olson/Getty Images)