Rihanna, Lizzo, 21 Savage And More Send Megan Thee Stallion Love And Support After Emotional IG Video
On Monday, the Houston rapper opened up about her mental state after she was shot.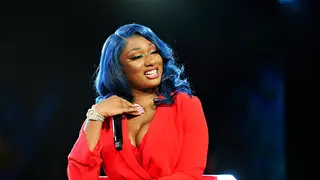 A number of celebrities have taken to social media to voice support for Megan Thee Stallion and send some positivity her way after she opened up about the shooting incident involving Toronto singer and rapper Tory Lanez in an emotional video this week. 
The 25-year-old was reportedly with Lanez on July 12 when she was shot in both of her feet and underwent surgery. 
Lanez was booked for carrying a concealed weapon, although he was later released on bond. He's due back in court on October 13.
In the midst of her recovery, Megan was subjected to rumors, memes and jokes trivializing her pain, prompting her to post an emotional Instagram video on July 27 addressing the incident. The rapper shared that she was traumatised by the event and called out people for trivializing her pain. 
"It was the worst experience of my life, and it's not funny," Megan said. "It's nothing to joke about. It was nothing for y'all to go and start making up fake stories about. I didn't put my hands on anybody. I didn't deserve to get shot."
Although Megan didn't name the person who shot her, she also refuted speculation that she was trying to protect anyone. "I just wasn't ready to speak," she clarified. "That's not no s**t that you just get on the Internet and immediately start talking about." 
"Imagine being 25, and you don't have both of your parents. My mama was my best friend, you know, I'm still not really over that."
Now several celebrities, including Lizzo and Rihanna, have stepped forward to shower her with their love and support.

On Wednesday, Megan shared a bouquet of flowers from Rihanna along with a card wishing her speedy recovery. "Just know you've got a whole crew here sending good vibes your way," the Fenty mogul wrote. 

Soon after, Lizzo gifted her a stuffed animal filled to the brim with all of her favorite candy.

"God, Lizzo. I love you. This whole thing filled up with Lucas and my favorite s**t," Megan gushed in her Instagram Story, giggling as she riffled through the care package. 

Janelle Monáe took to Twitter to express her frustration over the notable silence from their industry peers on the situation.

 "[Megan Thee Stallion], take all the time you need for yourself. Praying for your deeping hearing. Again, I am so sorry you are dealing  with this privately and publicly. All my love to you."

JoJo also chimed in to stand behind Megan and remind her she's not alone.

 "[I] started crying when you spoke about being 25 and not having either of [your] parents. [You] are not alone. We love [you]. Sending you infinite love and respect," the singer wrote.

21 Savage let Megan know he had her in his prayers as well, writing "Wish I could give Megan a hug, Praying for you."

In the meantime, Megan Thee Stallion has been using this time to reflect and heal from the traumatic experience while recovering from surgery. On Tuesday (July 28,) she shared a set of photos of herself  getting back into her normal routine. In one photo, she was seen laying down with some books beside the water. In the second photo, there were three sticky notes that read, "Take care of skin," "Pray," and "write music."