Dapper Dan Talks State of Fashion And How He Built A Luxury Brand On Subculture
The fashion icon opened up on the recent 'Claima Stories' podcast episode.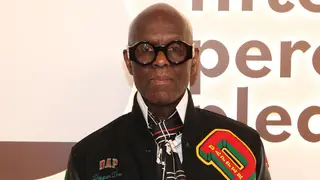 Iconic designer Dapper Dan sat down with Bimma Williams, on the latest episode of 'Claima Stories' powered by Vistaprint to discuss the state of the fashion industry.  Wearing a pastel pink vest suit, yellow tinted glasses, and a pastel blue patterned tie, Dapper Dan passionately discusses the intricacies of his life.  The episode explores his 40-year journey in fashion and how he built a luxury brand on subculture. 
'I started on the streets of Harlem selling to people of color, the gangsters and stuff like that. Even middle-class black wouldn't purchase from me,' Dan says about his early days of designing. 
He talks about luxury brands taking the safe route when it comes to designs,  'All the brands that came after me, did the cookie-cutter approach to fashion. They have everyone looking the same. My approach has always been like Burger King, have it your way,' says the decorated designer. 
On the state of fashion today, Dan says, 'They don't leave the door open for it to evolve on its own; they want to direct the culture."
Watch the entire interview below!