Good Luck Trying to Stop Ohio State's Offense This Year
Cardale Jones and Braxton Miller have the champs looking scary out here.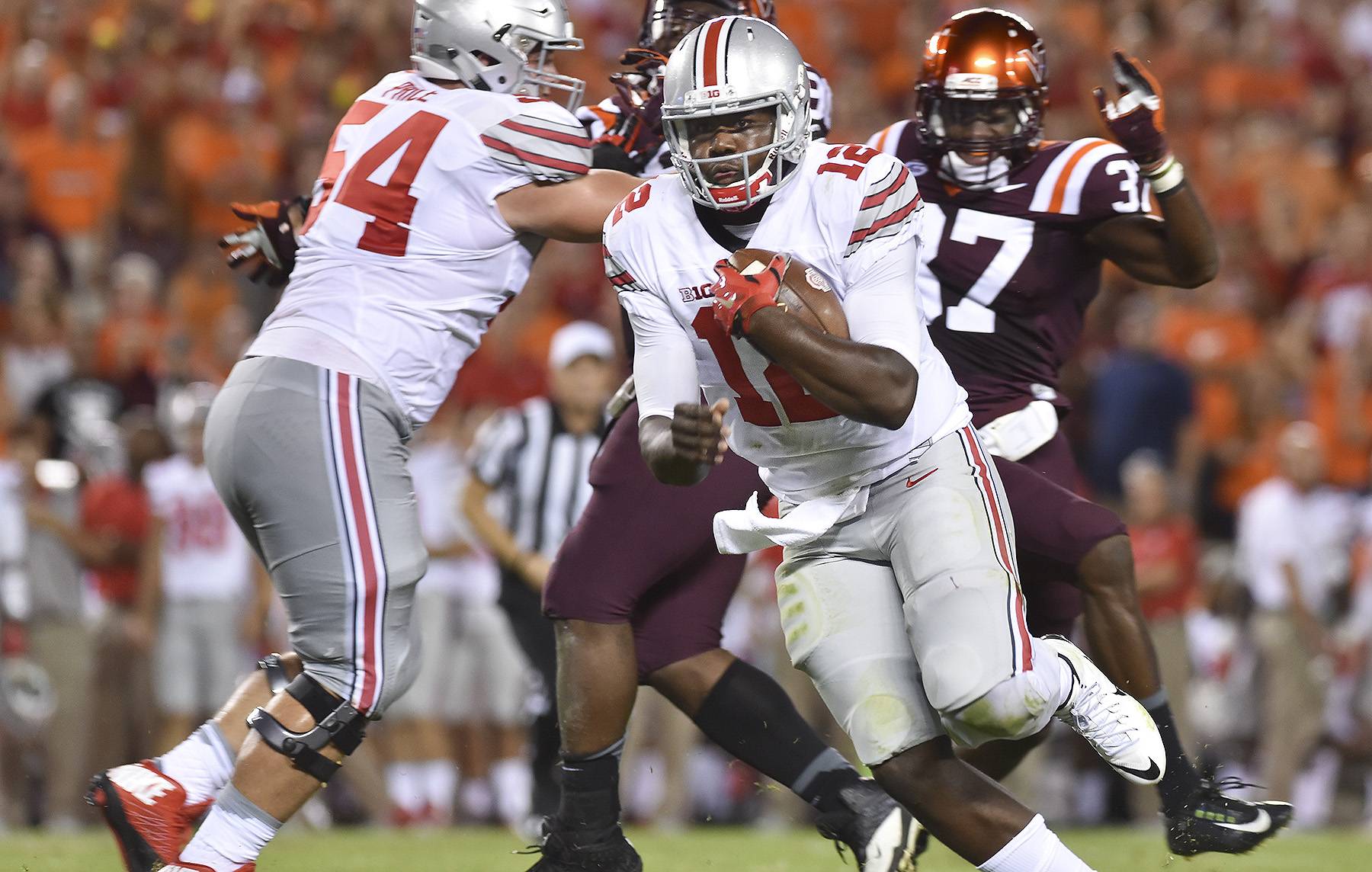 Warning—the defending national champion Ohio State Buckeyes are back with an even scarier offense.

The No. 1 Buckeyes rang up a ridiculous 360 rushing yards and 572 overall yards en route to kicking off their 2015 season with a 42-24 thrashing of Virginia Tech on Monday night.

Unlike so many talent poor programs, Ohio State was faced with the good offseason problem of who to start at quarterback between Cardale Jones, J.T. Barrett and Braxton Miller. What helped the cause was Miller agreeing to change positions to wide receiver in July. Well, Monday night was proof that all three players could be very successful within the Buckeyes' system.

Given the gametime decision to start at QB, Jones threw for 186 yards and two touchdowns, while rushing for 99 more yards and one more score. Miller electrified at wideout, hauling in a 54-yard touchdown reception from Jones and also scoring on a scintillating 53-yard TD run, in which he left two Virginia Tech defenders in the dust with a spin move.
The spin was so spectacular that Jones was seen moments later on the sideline imitating what he just witnessed.
Cleveland Cavaliers' superstar and huge Ohio State fan, LeBron James, was also impressed with Miller.
For good measure, Barrett had a passing touchdown and running back Ezekiel Elliott rushed for 122 yards and a touchdown as well.
"It's kind of scary," Elliott told ESPN of Ohio State's dominating play. "We were missing guys and we still just had so many weapons on the field today. We get some guys back next week and I know we can all improve on our play. We're very raw right now. First game of the season, that's what you expect but we have so much we can improve on. That's a scary thing. We could be very dominant."
"Very dominant" might even be an understatement.

BET Sports News — Get the latest news and information about African-Americans in sports, including weekly recaps, celebrity news and photos of your favorite Black athletes.
(Photo: Michael Shroyer/Getty Images)