Romeo Miller Is Engaged To Longtime Girlfriend Drew Sangster
Miller and Sangster announced the birth of their daughter on Valentine's Day, February 14, 2022.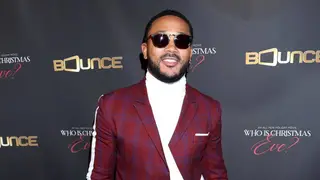 Romeo Miller revealed that he is engaged to longtime girlfriend Drew Sangster on a recent episode of Growing Up Hip Hop on WE tv.
Romeo, 33, disclosed the exciting news to Angela Simmons, co-host and co-creator of the show, as the pair sat down to repair their friendship.
Simmons asked Romeo about his one-year-old daughter with Sangster, asking if he was married.
"I keep my private life away from everything, but I'm an engaged man, Ang," Romeo said. "When you have a kid, you have to do what's right. I'm 'bout to be somebody's husband. You're the first person to know that outside of the family."
Simmons' appeared excited by the news, saying, "oh wow, congratulations."
She then asked Romeo about the ring he was wearing: "I thought you wear (sic.) that when you're married?"
Romeo explained that it's his preference to wear an engagement ring.
Miller and his now-fiancé announced the birth of their baby girl, whom they nicknamed "Baby R," on Feb. 14, 2022.
"My great granny always said if you live long enough, you'll realize that everything (and the best things) are on God's time, never yours," he wrote on Instagram. "The best Valentines ever. Been waiting for this moment my entire life."