'If I'm Wrong, Forgive Me' Master P Responds To Romeo Miller Amidst Public Feud
The father-son duo aired out their family drama on social media.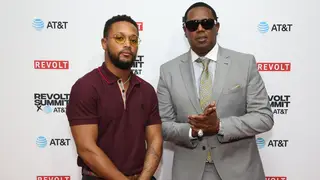 Master P is extending an olive branch to his son, Romeo Miller, in hopes that they can squash their public dispute that raged over the weekend.
The beef began when the No Limit founder addressed the recent suicide of DJ/dancer Stephen "tWitch" Boss, which prompted Miller to allege that his dad neglects his own child's mental health struggles.
After the initial post about tWitch's tragic passing made by Master P, Romeo posted a poem titled "The Tree of Trauma" on Instagram expressing his long history of frustrations with his father.
Then, P made a now-deleted IG post accusing Romeo of being part of a generation that "blam[es] their parents for everything" and that he "won't tolerate disrespect."
"I'm the one who settee [sic] up the family meeting to talk after Tyty death, that meeting was regarding as disrespectful for being transparent," Romeo replied in a since-deleted comment. "I pulled up to the crib time and time after that and you deflect, I've texted you countless times and you reply and deflect. Social media is THE ONLY WAY YOU COMMUNICATE. Now you wanna talk. Anything to protect that image."
"I loved you so much that I followed you blindly for 30+yrs. You know we've talked behind closed doors," he added. "You aren't the man who you paint to be and why is it war because I refuse to follow ur lead. You only want to protect your image, but the image isn't even real. And I don't need anyone to feel sorry for me pops, I'm truly a man of God. If you are really a man of God, then you will prevail in the end, even when I share my truth."
After a revealing and bitter back-and-forth between the father and son, which included Instagram posts and comments, Master P issued what some may interpret as an apology to Romeo.
"I love my family, my door is always open for my son," he said in an Instagram video on Sunday (December 18). "And if I'm wrong, forgive me. I'm apologizing to you if I'm wrong. I'm still a work-in-progress, I come from nothing. Everybody go through trauma; I'm dealing with this right now.
"But I love going out into the community and helping people — that's the way I heal. Allow me to heal!" he added. "I don't have to be sitting around moaning and crying. I can't get my daughter back. But I can go out there and keep her legacy going."
Master P concluded: "So let's do this in love, let's do this in peace. Think about it, we stronger together. But you older now, so you got to lead by example for the rest of the kids. And we'll get through this. I'm just telling y'all keep y'all prayers, we need it, and God gonna do what He gotta do. I'm not gonna come on here no more, so bloggers and everything else is cool. Whatever you wanna deal with, deal with Romeo. Whatever y'all think he saying is true or whatever, that's cool too. I can live with it. I'm at peace now, I had to speak my piece."
While the handshake extension was there, Master P did sub Romeo by claiming his son avoided his calls for months and questioned why he hasn't been able to replicate his success.
"So my question to Romeo is: If you've been in the business for as long as you've been in, and you a thirty-something-year-old man and if you've been around me, watching me hustle and do my thing, why you not where you want to be at?" he said. "Because that means you not listening. That means you want to do your own thing. You done brought your own circle of people. But you can't get mad at me."
Additionally, Master P accused his son of being ungrateful and claimed he has a sheltered upbringing.
"That's the problem when you take kids and you protect them from the real struggle and the pain and you don't allow them to deal with their own consequences," he said. "And then when they grow older, they [say], 'Oh, 'You never gave me nothing!' At 30-something, man. People can go back and look, you've been shining for a long time, son. All you gotta do is pick up the phone and call me or come to the house and holla at me."
In an additional since-deleted IG post, Master P questioned his son's motives for speaking out altogether.
"I thought this was about DJ Twitch and about my daughter's death," he wrote. "This is heartbreaking, you just exposed that this is REALLY ABOUT MONEY."
He added: "I worked hard to get my family out the ghetto. Every time I fell off I got up and went to work, I didn't blame anyone for my failures. You started this social media rant. So what's your plan besides showing the world you're entitled, spoiled at 30+, and throwing a tantrum on social media."