Op-Ed: Mother of Jordan Davis Says Hillary Clinton Is 'Clear Choice' for President
Lucia McBath, mother of Jordan Davis, says she will be voting for Hillary Clinton in the 2016 election because of her record of standing for common-sense gun laws.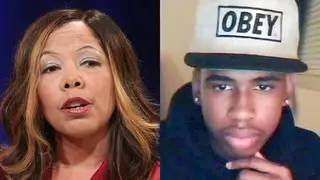 My son Jordan Davis was killed after playing loud music in the parking lot of a convenience store in Florida, a state with a discriminatory "stand your ground" law, by a man who decided to shoot first and ask questions later. 
It's been three years now since Jordan was killed — but as his mother, the pain never subsides. And sadly, I'm far from the only mom feeling it. Every year more than 33,000 people are killed by gun violence in America. I know we can't prevent every one of these senseless deaths. But surely we can prevent some of these fatalities — and I believe a good place to start is keeping guns out of the hands of dangerous individuals who should obviously not have them.
I stood behind President Obama when he announced new executive actions aimed at narrowing the loopholes in our laws that make it easy for dangerous people to get guns. But the truth is that the president can only clarify the law — and without Congressional action, these measures are only minor fixes that do not close the loopholes. For that, we need our political leaders to act. To make them act, we need to vote in 2016. And in that election, as President Obama said, we should only support candidates who have a record of standing for common-sense gun laws.
That's why my choice for president is clear: I'll be voting for Hillary Clinton.
Hillary has detailed plans to build on President Obama's executive actions, closing loopholes that still allow dangerous people to buy firearms at gun shows and on the Internet. Back when she was first lady, Hillary rallied the nation to pass the Brady Bill, a law that established federal background checks on many gun sales. In the Senate, she fought against a law called PLCCA, which continues to grant gun manufacturers and dealers sweeping immunity from lawsuits.
And Hillary has a plan to finally repeal the "Charleston loophole" so that fewer of our sons and daughters perish at the hands of dangerous individuals. Today a convicted felon, or someone with a dangerous mental illness, can walk into a gun store, and if their background check is not completed within three days, they can still be sold a firearm. Thanks to this loophole, in the last five years gun dealers have proceeded with more than 15,000 sales to prohibited people because their background check could not be completed within the three-day period.
Unfortunately the same cannot be said of any of the other GOP candidates who are in lock step with the NRA. It also cannot be said of Senator Sanders. He voted against the Brady Bill five times.  He also voted for PLCCA, the law that gives gun manufacturers and dealers immunity, not once, but twice, and he continues to say that his vote wasn't a mistake; that "it's complicated."
These issues are not complicated for me or other mothers whose children have been killed or the many other Americans who demand a president who will stand up to the NRA. 
That's why I'm voting for Hillary. And while my personal endorsement comes as the mother of a son killed by gun violence, I also know through my work in gun violence prevention, that there is a real, growing movement of Americans who stand as the counterweight to the gun lobby. And I know that where the candidates stand on guns will be a determining factor for voters in this election — we are making it so. 
There are more people in this nation reading my words and nodding their heads than there are people who think there is nothing we can do to stop the senseless gun violence that kills 88 Americans and injures hundreds more every day. 
There is still a lot we can do to save lives — and it's up to all of us.  We need leaders who will stand up to the gun lobby and support common-sense measures that will keep guns out of dangerous hand. And each and every one of us must also vote for leaders who will put the safety of our families and communities ahead of the interests of the gun lobby. 
Only one candidate has a proven record of doing just that — and that's why I'm with her.
Lucia McBath is the mother of Jordan Davis. 
The opinions expressed here do not necessarily reflect those of BET Networks


BET National News - Keep up to date with breaking news stories from around the nation, including headlines from the hip hop and entertainment world.
(Photos from left: Frederick M. Brown/Getty Images, Jordan Russell Davis via Facebook)