Murderer? Bobbi Kristina's Aunt Rips Nick Gordon to Shreds
Leolah is making serious accusations.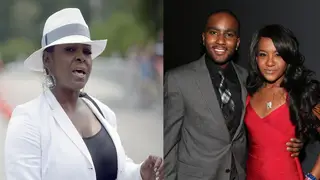 Nick Gordon made waves last month when he spoke out for the first time since the death of his girlfriend Bobbi Kristina Brown, but he's not exactly getting a lot of sympathy after his sit-down with Dr. Phil — especially not from Bobbi Kristina's family.
The late music scion's aunt Leolah Brown went on a Facebook rant slamming Gordon, accusing him of manipulating the public and even calling him a murderer. "Did you really believe that you fooled the world just because you went on Dr. Phil's show to again, try to manipulate the public on national television by continuing your lies that are very well apparent to every single person with a brain that was actually watching that show?" Brown wrote. "I can't believe Dr. Phil stated that YOU – Nick Gordan [sic] – the very one who is guilty of trying to MURDER my niece, Bobbi Kristina – went there on his show to so call set the record straight! As if you have the truth in you!"
Brown also put Dr. Phil on blast for sympathizing with Gordon. "It was very clear to the world that Dr. Phil was even trying hard to make you look good in the eyes of the public. I saw directly through him! Shame on him for not interviewing you the way he should have!" Brown wrote.
Among the bombshell revelations that Nick, who was also present when Whitney Houston drowned in a bathtub at the Beverly Hilton Hotel in 2012, revealed during the interview: that Bobbi Kristina had nearly drowned in a tub once before and was saved by her mother. Also, she had been abusing drugs regularly but Bobbi and Nick were desperate to get clean and start a family. He even admits that Bobbi had two miscarriages during their time together.
To get more details on the passing of Bobbi Kristina, watch the video above.