2023 NAACP Image Awards: 5 Things to Know About Comedian KevOnStage
The comedian found stardom thanks to his online skits and commentary.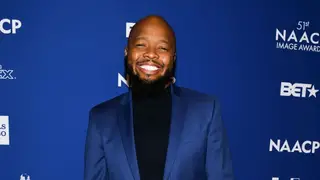 Kendrick Fredericks, better known as comedian KevOnStage, is a fantastic example of never letting rejection deter you from a dream. After struggling to get a seat at the table, KevOnStage created his own studio where he employs and highlights rising creatives like himself.
For his contributions, KevOnStage earned a nomination for "Outstanding Social Media Personality of the Year" at the 2023 NAACP Image Awards. The actor is up against several talented online stars, including Christianee Porter, Troy Millings, Rasahd Bilal of Earn Your Leisure, and Geroge Lee, better known as The Consciousless. But before we reveal who wins, get to know KevOnStage better with these five facts.
He created his own streaming platform

Tired of the lack of opportunity, Kevin took matters into his own hands and launched his streaming platform KevOnStage Studios. "The launch came from me getting sick of pitches going nowhere. I was pitching place after place and getting rejection after rejection. Some pilots. Some no follow-up," the comedian told Because of Them We Can. "I got tired of that and decided I would make the shows I wanted and hopefully find the audience to watch them."

He launched his own show 'What's Good'

Kevin's KevOnStage Studios not only highlights content from Black creatives and grants opportunities to other up-and-coming comedians but also hosts his own shows, including 'What's Good.' The series follows Kevin on the road as he explores various cities for the most popular Black-owned eateries.

Tyler Perry is one of his biggest influences

"Tyler Perry was the biggest influence just because he was able to independently produce his own things, and I loved that about him," he once said in an interview. "I have kind of taken his approach to touring and paired it with Kevin Hart's work ethic and stand-up. That is what I like to do."

His career is a decade in the making.

In a recent interview about his rise in the industry, Kevin opened up about initially growing his platform, something he said took a while to take off. "I didn't find any real success as KevOnStage until probably 2017," he explained. "Before that, I was just working hard, not getting many views, like many people." However, he now has nearly 5 million combined followers across several platforms.

He first tested out his comedic stylings at church

"There was a talent show at our church, and I told my brother I was thinking about doing stand-up comedy there, and my brother told me that this girl we knew didn't think I would be funny. That was just the motivation I needed," he once said in an interview. "I did it and loved it and found out a couple years ago my brother had made up that whole part of her, not thinking I would be funny.

Watch the NAACP Image Awards live on Saturday, February 25, 2023, at 8:00 pm ET/PT on BET.