2023 NAACP Image Awards: Who is Conscious Lee? Get to Know the Diversity Educator Spreading Awareness Online With His Unique Courses
The educator rose to fame for his take on identity, sexuality, race, class, and more.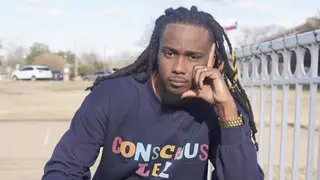 Public speaker, author, and educator George Lee, better known on social media as Conscious Lee, gained traction online thanks to his Professional Development and Diversity Inclusion programs through Conscious University. His work spreading awareness on topics including identity, sexuality, race, class, nationality, and language earned him not only a massive following on his social account but a nomination at this year's NAACP Image Awards airing live on Saturday, February 25th, 2023, at 8:00 PM ET on BET. So, as we gear up for the biggest celebration of Black Hollywood and excellence, get to know Conscious Lee better with these fun facts.
He earned several accolades

With over 2 million followers and supporters on social media, Lee has earned quite the following, so much so that he was named YouTube Content Creator Choice of The Year 2022. Other accolades include his 2023 NAACP Image Awards nomination for "Outstanding Social Media Personality of the Year."

He is a first-generation college graduate

One of the most impressive facts about Lee is that he is a first-generation college graduate with a Bachelor's degree in African & African American Studies, a Master's degree in both Human Relations and Adult Higher Education, and Graduate Certificates in Women and Gendered Studies along with Human Resource and Diversity Development from the University of Oklahoma, according to Net Influencer.

He started to take social media seriously in 2015

Following the birth of his daughter in 2015, Lee created a series called Street Academics, an earlier attempt at the content that has gained him fame today. "I still have some videos up on my YouTube," he revealed in a recent interview. "It wasn't as good as my videos are now, but it's kind of when I started. My platform started really taking off when I stumbled across TikTok in 2019."

Watch the NAACP Image Awards live on Saturday, February 25, 2023, at 8:00 pm ET/PT on BET.