Tyler Perry Is Reportedly Building A Luxe $100 Million Mansion Outside Of Atlanta
The mega-mansion is reportedly 40,000 square feet of living space.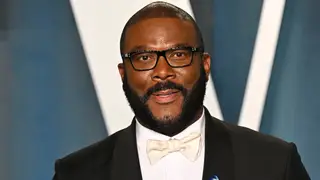 Tyler Perry is building a luxe estate that's fit for a king!
According to the AJC, Perry's project started in 2013 when he bought over 1,200 acres of land in Douglasville, Georgia, a short drive from Tyler Perry Studio and about 20 miles from downtown Atlanta.
This mega-mansion features approximately 40,000 square feet of living space with 8 bedrooms & 12 bathrooms and is worth approximately $100 million. Black Enterprise uploaded photos of the unfinished estate revealing the property's greenery surrounding the home nicely fittingly.
Tyler Perry isn't new to luxury, especially when buying and building on land. AJC talks about how the billionaire purchased a 17-acre mansion in 2019, and in 2015 he paid $30 million for 330 acres of land which became Tyler Perry Studios. In addition, he spent $250 million on the construction and development of the famous studio.
Nonetheless, long-term fans of the beloved Madea actor are taking to social media to show their love and congratulations for his new future home.