Here Are The Nominees For The '54th NAACP Image Awards'
ABC leads with 28 nominations.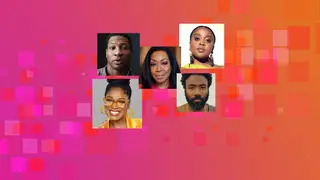 Today, NAACP unveiled the full list of "54th NAACP Image Awards" nominees with ABC and Netflix leading the pack with 28 and 15 nominations respectively. The winners will be revealed during the two-hour LIVE TV special, airing Saturday, February 25th, 2023 at 8:00 PM ET on BET and 8:00 PM PT on delay. The show will be in front of an audience for the first time in three years.
Netflix and Black Panther: Wakanda Forever lead nominations across the motion picture categories with 15 and 12 nominations respectively. ABC and Abbott Elementary received the most nominations in the television + streaming categories with 28 and nine nominations respectively. Beyoncé and Kendrick Lamar are tied for the most nominations in the music recording categories (5 respectively). RCA Records / RCA Inspiration received the most nominations across record labels (11). Penguin Random House and Harper Collins lead nominations across literary categories (9).
"This year's nominees have conveyed a wide range of authentic stories and diverse experiences that have resonated with many in our community, and we're proud to recognize their outstanding achievements and performances," said Derrick Johnson, President and CEO of the NAACP.
At the end of the segment, King surprised Smith by letting him know he received two nominations this year.
Smith went on to express to BET.com his feelings about being nominated.
"Wow. The first time blew my mind. The second time, it was like, Okay, I know I'm not gonna win, but I did win. So it blew my mind even more. Now third time. It's like, Wow, do I really deserve to be here? I really deserve to be here and they really liked me so it's still working," he said.
He also gave some insight into the episodes of Power Book II: Ghost.
"More intrigue. More plot twists. More Mary J. Blige," he continued.
The public can vote to determine the winners of the "54th NAACP Image Awards" by visiting www.naacpimageawards.net. Voting closes on February 10, 2023. Winners will be revealed during the "54th NAACP Image Awards" telecast on February 25, 2023, on BET. NAACP will also recognize winners in non-televised Image Awards categories February 20-24, which will stream on www.naacpimageawards.net. For all information and the latest news, please follow NAACP Image Awards on Instagram @NAACPImageAwards.
ENTERTAINER OF THE YEAR NOMINEES
MOTION PICTURE CATEGORIES
Outstanding Motion Picture
A      Jazzman's Blues (Netflix)
Black      Panther: Wakanda Forever (Marvel Studios)
Emancipation      (Apple TV)
The      Woman King (Sony Pictures Releasing)
TILL      (United Artists Releasing/Orion Pictures)
Outstanding Actor in a Motion Picture
Daniel      Kaluuya – Nope (Universal Pictures)
Jonathan      Majors – Devotion (Sony Pictures Entertainment)
Joshua      Boone – A Jazzman's Blues (Netflix)
Sterling      K. Brown – Honk for Jesus. Save Your Soul (Focus Features)
Will      Smith – Emancipation (Apple)
Outstanding Actress in a Motion Picture
Danielle      Deadwyler – TILL (United Artists Releasing/Orion Pictures)
Keke      Palmer – Alice (Vertical Entertainment)
Letitia      Wright – Black Panther: Wakanda Forever (Marvel Studios)
Regina      Hall – Honk for Jesus. Save Your Soul (Focus Features)
Viola      Davis – The Woman King (Sony Pictures Releasing)
Outstanding Supporting Actor in a Motion Picture
Aldis      Hodge – Black Adam (Warner Bros. Pictures / New Line Cinema)
Cliff      "Method Man" Smith – On The Come Up (Paramount Pictures)
Jalyn      Hall – TILL (United Artists Releasing/Orion Pictures)
John      Boyega – The Woman King (Sony Pictures Releasing)
Tenoch      Huerta – Black Panther: Wakanda Forever (Marvel Studios)
Outstanding Supporting Actress in a Motion Picture
Angela      Bassett – Black Panther: Wakanda Forever (Marvel Studios)
Danai      Gurira – Black Panther: Wakanda Forever (Marvel Studios)
Janelle      Monáe – Glass Onion: A Knives Out Mystery (Netflix)
Lashana      Lynch – The Woman King (Sony Pictures Releasing)
Lupita      Nyong'o – Black Panther: Wakanda Forever (Marvel Studios)
Outstanding Independent Motion Picture
Breaking      (Bleecker Street)
Causeway      (Apple TV)
Mr.      Malcolm's List (Bleecker Street)
Remember      Me: The Mahalia Jackson Story (Hulu)
The      Inspection (A24)
Outstanding International Motion Picture
Athena      (Netflix)
Bantú      Mama (ARRAY)
Broker      (NEON)
Learn      to Swim (ARRAY)
The      Silent Twins (Focus Features)
Outstanding Breakthrough Performance in a Motion Picture
Jalyn      Hall – TILL (United Artists Releasing/Orion Pictures)
Joshua      Boone – A Jazzman's Blues (Netflix)
Ledisi      – Remember Me: The Mahalia Jackson Story (Hulu)
Y'lan      Noel – A Lot of Nothing (RLJE)
Yola      – Elvis (Warner Bros. Pictures)
Outstanding Ensemble Cast in a Motion Picture
A      Jazzman's Blues (Netflix)
Black      Panther: Wakanda Forever (Marvel Studios)
Emancipation      (Apple TV)
The      Woman King (Sony Pictures Entertainment)
TILL      (United Artists Releasing/Orion Pictures)
Outstanding Animated Motion Picture
DC      League of Super-Pets (Warner Bros. Pictures / WAG / DC)
Guillermo      del Toro's Pinocchio (Netflix)
Puss      in Boots: The Last Wish (Universal Pictures)
Turning      Red (Pixar Animation Studios)
Wendell      & Wild (Netflix)
Outstanding Character Voice-Over Performance - Motion Picture
Angela      Bassett – Wendell & Wild (Netflix)
Keke      Palmer – Lightyear (Walt Disney Studios)
Kevin      Hart – DC League of Super-Pets (Warner Bros. Pictures / WAG / DC)
Lyric      Ross – Wendell & Wild (Netflix)
Taraji      P. Henson – Minions: The Rise of Gru (Universal Pictures)
Outstanding Short-Form (Live Action)
Dear      Mama… (Film Independent)
Fannie      (Chromatic Black)
Fathead      (University of Southern California)
Incomplete      (20th Century Digital, Hulu)
Pens      & Pencils (Wavelength Productions/Black TV & Film Collective)
Outstanding Short-Form (Animated)
I      Knew Superman (Houghtonville Animation)
More      Than I Want To Remember (MTV Entertainment Studios)
Supercilious      (York Cinemas)
The      Boy, the Mole, the Fox and the Horse (Apple Studios)
We      Are Here (271 Films)
Outstanding Breakthrough Creative (Motion Picture)
Elvis      Mitchell – Is That Black Enough For You?!? (Netflix)
Ericka      Nicole Malone – Remember Me: The Mahalia Jackson Story (Hulu)
Krystin      Ver Linden – Alice (Vertical Entertainment)
Mo      McRae – A Lot of Nothing (RLJE)
Stephen      Adetumbi, Jarrett Roseborough – This Is My Black (Campus of Pine Forge      Academy)
TELEVISION + STREAMING CATEGORIES
Outstanding Comedy Series
Abbott      Elementary (ABC)
Atlanta      (FX)
black-ish      (ABC)
Rap      Sh!t (HBO Max)
The      Wonder Years (ABC)
Outstanding Actor in a Comedy Series
Anthony      Anderson – black-ish (ABC)
Cedric      The Entertainer – The Neighborhood (CBS)
Donald      Glover – Atlanta (FX)
Dulé      Hill – The Wonder Years (ABC)
Mike      Epps – The Upshaws (Netflix)
Outstanding Actress in a Comedy Series
Loretta      Devine – Family Reunion (Netflix)
Maya      Rudolph – Loot (Apple TV+)
Quinta      Brunson – Abbott Elementary (ABC)
Tichina      Arnold – The Neighborhood (CBS)
Tracee      Ellis Ross – black-ish (ABC)
Outstanding Supporting Actor in a Comedy Series
Brian      Tyree Henry – Atlanta (FX)
Deon      Cole – black-ish (ABC)
Kenan      Thompson – Saturday Night Live (NBC)
Tyler      James Williams – Abbott Elementary (ABC)
William      Stanford Davis – Abbott Elementary (ABC)
Outstanding Supporting Actress in a Comedy Series
Janelle      James – Abbott Elementary (ABC)
Jenifer      Lewis – black-ish (ABC)
Marsai      Martin – black-ish (ABC)
Sheryl      Lee Ralph – Abbott Elementary (ABC)
Wanda      Sykes – The Upshaws (Netflix)
Bel-Air      (Peacock)
Bridgerton      (Netflix)
Euphoria      (HBO Max)
P-Valley      (Starz)
Queen      Sugar (OWN: Oprah Winfrey Network)
Outstanding Actor in a Drama Series
Damson      Idris – Snowfall (FX)
Jabari      Banks – Bel-Air (Peacock)
Kofi      Siriboe – Queen Sugar (OWN: Oprah Winfrey Network)
Nicco      Annan – P-Valley (Starz)
Sterling      K. Brown – This Is Us (NBC)
Outstanding Actress in a Drama Series
Angela      Bassett – 9-1-1 (FOX)
Brandee      Evans – P-Valley (Starz)
Queen      Latifah – The Equalizer (CBS)
Rutina      Wesley – Queen Sugar (OWN: Oprah Winfrey Network)
Zendaya      – Euphoria (HBO Max)
Outstanding Supporting Actor in a Drama Series
Adrian      Holmes – Bel-Air (Peacock)
Amin      Joseph – Snowfall (FX)
Caleb      McLaughlin – Stranger Things (Netflix)
Cliff      "Method Man" Smith – Power Book II: Ghost (Starz)
J.      Alphonse Nicholson – P-Valley (Starz)
Outstanding Supporting Actress in a Drama Series
Adjoa      Andoh – Bridgerton (Netflix)
Bianca      Lawson – Queen Sugar (OWN: Oprah Winfrey Network)
Loretta      Devine – P-Valley (Starz)
Susan      Kelechi Watson – This Is Us (NBC)
Tina      Lifford – Queen Sugar (OWN: Oprah Winfrey Network)
Outstanding Television Movie, Limited-Series or Dramatic Special
Carl      Weber's The Black Hamptons (BET+)
From      Scratch (Netflix)
The      Best Man: The Final Chapters (Peacock)
The      Last Days of Ptolemy Grey (Apple TV+)
Women      of the Movement (ABC)
Outstanding Actor in a Television Movie, Limited-Series or Dramatic Special
Morris      Chestnut – The Best Man: The Final Chapters (Peacock)
Samuel      L. Jackson – The Last Days of      Ptolemy Grey (Apple TV+)
Terrence      Howard – The Best Man: The Final Chapters (Peacock)
Trevante      Rhodes – Mike (Hulu)
Wendell      Pierce – Don't Hang Up (Bounce TV)
Outstanding Actress in a Television Movie, Limited-Series or Dramatic Special
Niecy      Nash-Betts – Dahmer - Monster: The Jeffrey Dahmer Story (Netflix)
Regina      Hall – The Best Man: The Final Chapters (Peacock)
Sanaa      Lathan – The Best Man: The Final Chapters (Peacock)
Viola      Davis – The First Lady (Showtime)
Zoe      Saldaña – From Scratch (Netflix)
Outstanding Supporting Actor in a Television Movie, Limited-Series or Dramatic Special
· Glynn Turman – Women of the Movement (ABC)
· Keith David – From Scratch (Netflix)
· Omar Benson Miller – The Last Days of Ptolemy Grey (Apple TV+)
· Russell Hornsby – Mike (Hulu)
· Terrence "TC" Carson – A Wesley Christmas (BET+)
Outstanding Supporting Actress in a Television Movie, Limited-Series or Dramatic Special
· Alexis Floyd – Inventing Anna (Netflix)
· Danielle Deadwyler – From Scratch (Netflix)
· Melissa De Sousa – The Best Man: The Final Chapters (Peacock)
· Nia Long – The Best Man: The Final Chapters (Peacock)
· Phylicia Rashad – Little America (Apple TV+)
Outstanding News/Information (Series or Special)
· #RolandMartinUnfiltered: Black Votes Matter Election Night 2022 Coverage (Black Star Network/YouTube)
· ABC News 20/20 Michelle Obama: The Light We Carry, A Conversation with Robin Roberts (ABC)
· Finding Your Roots with Henry Louis Gates, Jr. (PBS)
· OWN Spotlight: Viola Davis - The Woman King (OWN: Oprah Winfrey Network)
· Hart to Heart (Peacock)
· Red Table Talk (Facebook Watch)
· Uninterrupted: The Shop (YouTube)
Outstanding Reality Program, Reality Competition or Game Show (Series)
· Lizzo's Watch Out for the Big Grrrls (Amazon Studios)
· Sweet Life: Los Angeles (HBO Max)
· The Real Housewives of Atlanta (Bravo)
Outstanding Variety Show (Series or Special)
· A Black Lady Sketch Show (HBO Max)
· BET Awards 2022 (BET Networks)
· Deon Cole: Charleen's Boy (Netflix)
· Martin: The Reunion (BET+)
· The Daily Show with Trevor Noah (Comedy Central)
Outstanding Children's Program
· Family Reunion (Netflix)
· Tab Time (YouTube Originals)
· Waffles + Mochi's Restaurant (Netflix)
Outstanding Performance by a Youth (Series, Special, Television Movie or Limited-Series)
· Alaya "That Girl Lay Lay" High – That Girl Lay Lay (Nickelodeon)
· Cameron J. Wright – Family Reunion (Netflix)
· Elisha Williams – The Wonder Years (ABC)
· Khali Spraggins – The Upshaws (Netflix)
· Ja'Siah Young – Raising Dion (Netflix)
Outstanding Host in a Talk or News/Information (Series or Special) – Individual or Ensemble
· Jada Pinkett-Smith, Adrienne Banfield-Norris, Willow Smith – Red Table Talk (Facebook Watch)
· Jennifer Hudson – The Jennifer Hudson Show (Syndicated)
· Kevin Hart – Hart to Heart (Peacock)
· Lester Holt – NBC Nightly News (NBC)
· Tracee Ellis Ross – The Hair Tales (Hulu)
Outstanding Host in a Reality/Reality Competition, Game Show or Variety (Series or Special) – Individual or Ensemble
· Keke Palmer – Password (NBC)
· Lizzo – Lizzo's Watch Out for the Big Grrrls (Amazon Studios)
· Tabitha Brown – Tab Time (YouTube Originals)
· Taraji P. Henson – BET Awards 2022 (BET Networks)
· Trevor Noah – The Daily Show with Trevor Noah (Comedy Central)
Outstanding Guest Performance
· Amanda Gorman – Sesame Street (HBO Max)
· Chance the Rapper – South Side (HBO Max)
· Colman Domingo – Euphoria (HBO Max)
· Glynn Turman – Queen Sugar (OWN: Oprah Winfrey Network)
· Gabourey Sidibe – American Horror Stories (FX)
Outstanding Animated Series
· Central Park (Apple TV+)
· Eureka! (Disney Junior)
· Gracie's Corner (YouTube)
· The Proud Family: Louder and Prouder (Disney+)
Outstanding Character Voice-Over Performance (Television)
· Billy Porter – The Proud Family: Louder and Prouder (Disney+)
· Cedric the Entertainer – The Proud Family: Louder and Prouder (Disney+)
· Chris Bridges – Karma's World (Netflix)
· Cree Summer – Rugrats (Nickelodeon)
· Kyla Pratt – The Proud Family: Louder and Prouder (Disney+)
Outstanding Short Form Series – Comedy or Drama
· Between The Scenes – The Daily Show (Comedy Central)
· Oh Hell No! With Marlon Wayans (Facebook Watch)
· Rise Up, Sing Out (Disney+)
· Sunday Dinner (YouTube)
Outstanding Short Form Series or Special – Reality/Nonfiction
· Black Independent Films: A Brief History (Turner Classic Movies)
· Daring Simone Biles (Snap)
· Omitted: The Black Cowboy (ESPN)
Outstanding Breakthrough Creative (Television)
· Amy Wang – From Scratch (Netflix)
· Branden Jacobs-Jenkins – Kindred (FX)
· Hannah Cope – Karma's World (Netflix)
· Quinta Brunson – Abbott Elementary (ABC)
· Syreeta Singleton – Rap Sh!t (HBO Max)
· Adam Blackstone – Legacy (BASSic Black Entertainment Records/Anderson Music Group/Empire)
· Armani White – Billie Eilish (Def Jam Recordings)
· Coco Jones – ICU (Def Jam Recordings)
· Fivio Foreign – B.I.B.L.E (Columbia Records)
· Steve Lacy – Gemini Rights (RCA Records)
· Brent Faiyaz – Wasteland (Lost Kids)
· Burna Boy – Love, Damini (Atlantic Records)
· Chris Brown – Breezy (Deluxe) (RCA Records/Chris Brown Entertainment)
· Drake – Honestly, Nevermind (OVO/Republic Records)
· Kendrick Lamar – Mr. Morale & the Big Steppers (pgLang/Top Dawg Entertainment/Aftermath/Interscope Records)
Outstanding Female Artist
· Ari Lennox – age/sex/location (Dreamville/Interscope Records)
· Beyoncé – Renaissance (Columbia Records/Parkwood Entertainment)
· Chlöe – Surprise (Columbia Records/Parkwood Entertainment)
· Jazmine Sullivan – Hurt Me So Good (RCA Records)
· SZA – S.O.S. (RCA Records/Top Dawg Entertainment)
Outstanding Gospel/Christian Album
· All Things New – Tye Tribbett (Motown Gospel)
· Hymns – Tasha Cobbs Leonard (Motown Gospel)
· Kingdom Book One – Maverick City Music & Kirk Franklin (Tribl Records, Fo Yo Soul Recordings and RCA Inspiration)
· My Life – James Fortune (FIYA World/MNRK Music Group)
· The Urban Hymnal – Tennessee State University (TSU/Tymple)
Outstanding International Song
· Bad To Me – Wizkid (RCA Records/Starboy/Sony Music International)
· Diana feat. Shenseea – Fireboy DML, Chris Brown (YBNL Nation / EMPIRE)
· Last Last – Burna Boy (Atlantic Records)
· No Woman No Cry – Tems (Def Jam Recordings)
· Stand Strong – Davido feat. Sunday Service Choir (RCA Records/Sony Music UK)
Outstanding Music Video/Visual Album
· About Damn Time – Lizzo (Atlantic Records)
· Be Alive – Beyoncé (Columbia Records/ Parkwood Entertainment)
· Lift Me Up – Rihanna (Def Jam Recordings)
· LORD FORGIVE ME feat. FAT, Pharrell and OLU of EARTHGANG – TOBE NWIGWE (THE GOOD STEWARDS COLLECTIVE)
· The Heart Part 5 – Kendrick Lamar (pgLang/Top Dawg Entertainment/Aftermath/Interscope Records)
· age/sex/location – Ari Lennox (Dreamville/Interscope Records)
· Breezy (Deluxe) – Chris Brown (RCA Records/Chris Brown Entertainment)
· Mr. Morale & the Big Steppers – Kendrick Lamar (pgLang/Top Dawg Entertainment/Aftermath/Interscope Records)
· Renaissance – Beyoncé (Parkwood/Columbia Records)
· Watch the Sun – PJ Morton (Morton Records)
Outstanding Soundtrack/Compilation Album
· Black Panther: Wakanda Forever - Music From and Inspired By – Ryan Coogler, Ludwig Göransson, Archie Davis and Dave Jordan (Hollywood Records)
· Bridgerton Season Two (Soundtrack from the Netflix Series) – Kris Bowers (Capitol Records)
· Entergalactic – Kid Cudi (Republic Records)
· P-Valley: Season 2 (Music From the Original TV Series) – Various Artists (Lions Gate Records)
· The Woman King – Terence Blanchard (Milan Records)
Outstanding Gospel/Christian Song
· All in Your Hands – Marvin Sapp (Elev8 Media & Entertainment LLC)
· Fly (Y.M.M.F.) – Tennessee State University (TSU/Tymple)
· Positive – Erica Campbell (My Block Inc.)
· Whole World In His Hands – MAJOR. (MNRK Music Group)
· Your World – Jonathan McReynolds (MNRK Music Group)
Outstanding Jazz Album - Instrumental
· Detour – Boney James (Concord Records)
· Henry Franklin: Jazz Is Dead 014  – Henry Franklin, Ali Shaheed Muhammad, Adrian Younge
· The Funk Will Prevail – Kaelin Ellis (NCH Music)
· The Gospel According to Nikki Giovanni – Javon Jackson (Solid Jackson Records)
· Thrill Ride – Ragan Whiteside (Randis Music)
Outstanding Jazz Album - Vocal
· Legacy – Adam Blackstone (BASSic Black Entertainment Records / Anderson Music Group / Empire)
· Linger Awhile – Samara Joy (Verve Records)
· Love and the Catalyst – Aimée Allen (Azuline)
· New Standards Vol. 1 – Terri Lyne Carrington (Candid Records)
· The Evening : Live at Apparatus – The Baylor Project (Be A Light)
Outstanding Soul/R&B Song
· About Damn Time – Lizzo (Atlantic Records)
· Cuff It – Beyoncé (Columbia Record/Parkwood Entertainment)
· Good Morning Gorgeous Remix feat. H.E.R. – Mary J. Blige (300)
· Hurt Me So Good – Jazmine Sullivan (RCA Records)
· Lift Me Up – Rihanna (Def Jam Recordings)
Outstanding Hip Hop/Rap Song
· Billie Eilish – Armani White (Def Jam Recordings)
· City of Gods – Fivio Foreign (Columbia Records)
· Hotel Lobby – Quavo, Takeoff (Motown Records/Quality Control Music)
· The Heart Part 5 – Kendrick Lamar (pgLang/Top Dawg Entertainment/Aftermath/Interscope Records)
· Wait for U – Future feat. Drake and Tems (Epic Records)
Outstanding Duo, Group or Collaboration (Traditional)
· Kendrick Lamar feat. Blxst & Amanda Reifer – Die Hard (pgLang/Top Dawg Entertainment/Aftermath/Interscope Records)
· Mary J. Blige feat. H.E.R. – Good Morning Gorgeous Remix (300)
· PJ Morton feat. Alex Isley and Jill Scott – Still Believe (Morton Records)
· Silk Sonic – Love's Train (Atlantic Records)
· Summer Walker, Cardi B, and SZA – No Love (LVRN/Interscope Records)
Outstanding Duo, Group or Collaboration (Contemporary)
· Beyoncé feat. Grace Jones and Tems – MOVE (Columbia Records/Parkwood Entertainment)
· Chris Brown feat. Wizkid – Call Me Every Day (RCA Records/Chris Brown Entertainment)
· City Girls feat. Usher – Good Love (Motown Records/Quality Control Music)
· Future feat. Drake and Tems – Wait For U (Epic Records)
· Latto feat. Mariah Carey and DJ Khaled – Big Energy (Remix) (RCA Records)
Outstanding Documentary (Film)
· Is That Black Enough For You?!? (Netflix)
· Louis Armstrong's Black & Blues (Apple TV+)
Outstanding Documentary (Television)
· Black Love (OWN: Oprah Winfrey Network)
· Everything's Gonna be All White (Showtime)
· Race: Bubba Wallace (Netflix)
Outstanding Writing in a Comedy Series
· Aisha Muharrar – Hacks – "Episode 206" (HBO Max)
· Ayo Edebiri, Shana Gohd – What We do in the Shadows – "Episode 405" (FX)
· Brittani Nichols – Abbott Elementary – "Student Transfer" (ABC)
· Karen Joseph Adcock – The Bear – "Episode 105" (FX)
· Quinta Brunson – Abbott Elementary – "Development Day" (ABC)
Outstanding Writing in a Drama Series
· Aurin Squire – The Good Fight – "Episode 603" (Paramount+)
· Branden Jacobs-Jenkins – Kindred – "Episode 101" (FX)
· Davita Scarlett – The Good Fight – "Episode 604" (Paramount+)
· Joshua Allen – From Scratch – "Episode 105" (Netflix)
· Marissa Jo Cerar – Women of the Movement – "Episode 101" (ABC)
Outstanding Writing in a Television Movie or Special
· Bree West – A Wesley Christmas (BET Networks)
· Ian Edelman, Maurice Williams – Entergalactic (Netflix)
· Jerrod Carmichael – Jerrod Carmichael: Rothaniel (HBO Max)
· Lil Rel Howery – Lil Rel Howery: I Said it. Y'all Thinking it (HBO Max)
· Matt Lopez – Father of the Bride (HBO Max)
Outstanding Writing in a Motion Picture
· Charles Murray – The Devil You Know (Lionsgate)
· Dana Stevens, Maria Bello – The Woman King (Sony Pictures Releasing)
· Jordan Peele – Nope (Universal Pictures)
· Krystin Ver Linden – Alice (Vertical Entertainment)
· Ryan Coogler – Black Panther: Wakanda Forever (Marvel Studios)
Outstanding Directing in a Comedy Series
· Angela Barnes – Atlanta – "The Homeliest Little Horse" (FX)
· Bridget Stokes – A Black Lady Sketch Show – "Save My Edges, I'm a Donor!" (HBO Max)
· Dee Rees – Upload – "Hamoodi" (Amazon Studios)
· Iona Morris Jackson – black-ish – "If A Black Man Cries in the Woods" (ABC)
· Pete Chatmon – The Flight Attendant – "Drowning Women" (HBO Max)
Outstanding Directing in a Drama Series
· Debbie Allen – The Last Days of Ptolemy Grey – "Robyn" (Apple TV+)
· Giancarlo Esposito – Better Call Saul – "Axe and Grind" (AMC)
· Gina Prince-Bythewood – Women of the Movement – "Mother and Son" (ABC)
· Hanelle Culpepper – The Last Days of Ptolemy Grey – "Sensia" (Apple TV+)
· Kasi Lemmons – Women of the Movement – "Episode 106" (ABC)
Outstanding Directing in a Television Movie or Special
· Anton Cropper – Fantasy Football (Paramount+)
· Marta Cunningham – 61st Street (AMC)
· Sujata Day – Definition Please (Netflix)
· Tailiah Breon – Kirk Franklin's The Night Before Christmas (Lifetime)
· Tine Fields – Soul of a Nation: Screen Queens Rising (ABC)
Outstanding Directing in a Motion Picture
· Antoine Fuqua – Emancipation (Apple)
· Chinonye Chukwu – TILL (United Artists Releasing/Orion Pictures)
· Gina Prince-Bythewood – The Woman King (Sony Pictures Releasing)
· Kasi Lemmons – I Wanna Dance With Somebody (Sony Pictures Releasing)
· Ryan Coogler – Black Panther: Wakanda Forever (Marvel Studios)
Outstanding Directing in a Documentary (Television or Motion Picture)
· Nadia Hallgren – Civil (Netflix)
· Reginald Hudlin – Sidney (Apple TV+)
· Sacha Jenkins – Everything's Gonna Be All White (Showtime)
· Sacha Jenkins – Louis Armstrong's Black & Blues (Apple TV+)
· W. Kamau Bell – We Need to Talk About Cosby (Showtime)
Outstanding Literary Work - Fiction
· Africa Risen: A New Era of Speculative Fiction – Sheree Renée Thomas (Macmillan)
· Light Skin Gone to Waste – Toni Ann Johnson (University of Georgia Press)
· Take My Hand – Dolen Perkins-Valdez (Penguin Random House)
· The Keeper – Tananarive Due, Steven Barnes (Abrams Books)
· You Made a Fool of Death with Your Beauty – Akwaeke Emezi (Simon & Schuster)
Outstanding Literary Work - Nonfiction
· Finding Me – Viola Davis (HarperCollins Publishers)
· Grace: President Obama and Ten Days in the Battle for America – Cody Keenan (HarperCollins Publishers)
· Requiem for the Massacre – RJ Young (Counterpoint)
· Under the Skin – Linda Villarosa (Knopf Doubleday Publishing Group)
· Who's Black and Why? A Hidden Chapter from the Eighteenth-Century Invention of Race – Henry Louis Gates, Andrew S. Curran (The Belknap Press of Harvard University Press)
Outstanding Literary Work - Debut Author
· America Made Me a Black Man – Boyah Farah (HarperCollins Publishers)
· Illustrated Black History: Honoring the Iconic and the Unseen – George McCalman (HarperCollins)
· Marriage Be Hard – Kevin Fredericks, Melissa Fredericks (Penguin Random House)
· Truth's Table: Black Women's Musings on Life, Love, and Liberation – Ekemini Uwan, Christina Edmondson, Michelle Higgins (Penguin Random House Convergent Imprint)
· What the Fireflies Knew – Kai Harris (Penguin Random House)
Outstanding Literary Work - Biography/Autobiography
· A Way Out of No Way: A Memoir of Truth, Transformation, and the New American Story – Raphael G. Warnock (Penguin Random House)
· Scenes from My Life – Raphael G. Warnock (Penguin Random House)
· The Light We Carry – Michelle Obama (Penguin Random House)
· Walking In My Joy: In These Streets – Jenifer Lewis (HarperCollins Publishers)
· You've Been Chosen – Cynt Marshall (Ballantine Books)
Outstanding Literary Work - Instructional
· Black Joy: Stories of Resistance, Resilience, and Restoration – Tracey Lewis-Giggetts (Gallery/Simon and Schuster)
· Cooking from the Spirit – Tabitha Brown (William Morrow, an imprint of HarperCollins Publishers)
· Eat Plants, B*tch: 91 Vegan Recipes That Will Blow Your Meat-Loving Mind – Pinky Cole (Simon & Schuster)
· Homecoming: Overcome Fear and Trauma to Reclaim Your Whole Authentic Self – Thema Bryant (Penguin Random House/TarcherPerigee)
· The Five Principles: A Revolutionary Path to Health, Inner Wealth, and Knowledge of Self –  Khnum Ibomu (Hachette Book Group)
Outstanding Literary Work - Poetry
· Best Barbarian – Roger Reeves (Norton)
· Bluest Nude – Ama Codjoe (Milkweed Editions)
· Concentrate – Courtney Faye Taylor (Graywolf Press)
· Muse Found in a Colonized Body – Yesenia Montilla (Four Way Books)
· To the Realization of Perfect Helplessness – Robin Coste Lewis (Alfred A. Knopf)
Outstanding Literary Work - Children
· Ablaze with Color: A Story of Painter Alma Thomas – Jeanne Walker Harvey, Loveis Wise (HarperCollins)
· Black Gold – Laura Obuobi, London Ladd (HarperCollins)
· Blue: A History of the Color as Deep as the Sea and as Wide as the Sky – Nana Brew-Hammond, Daniel Minter (Alfred A. Knopf Books for Young Readers)
· Stacey's Remarkable Books – Stacey Abrams, Kitt Thomas (HarperCollins - Balzer + Bray)
· The Year We Learned to Fly – Jacqueline Woodson, Rafael Lopez (Penguin Random House)
Outstanding Literary Work - Youth/Teens
· Cookies & Milk – Shawn Amos (Little, Brown Books for Young Readers)
· Inheritance: A Visual Poem – Elizabeth Acevedo (HarperCollins - Quill Tree Books)
· Maybe An Artist, A Graphic Memoir – Liz Montague (Random House Studio)
· Me and White Supremacy: Young Readers' Edition – Layla F. Saad (Sourcebooks)
· Opening My Eyes Underwater: Essays on Hope, Humanity, and Our Hero Michelle Obama – Ashley Woodfolk (Feiwel & Friends, Macmillan)
Outstanding News and Information Podcast
· #SundayCivics (LJW Community Strategies)
· Beyond the Scenes - The Daily Show (Central Productions, LLC)
· Black Tech Green Money (The Black Effect Podcast Network)
· Holding Court with Eboni K. Williams (Interval Presents & Uppity Productions)
· Into America with Trymaine Lee (MSNBC)
Outstanding Lifestyle/Self-Help Podcast
· Chile, Please (Honey Chile)
· GoOD Mornings with CurlyNikki (Walton Media, LLC)
· Man to Man: A Black Love Wellness Series (Black Love Inc.)
· Maejor Frequency (Audible)
· Therapy for Black Girls (Therapy for Black Girls)
Outstanding Society and Culture Podcast
· Comeback with Erica Cobb (Erica Cobb LLC/One Street Studios)
· Higher Learning with Van Lathan and Rachel Lindsay (Spotify & The Ringer)
· Into America with Trymaine Lee (MSNBC)
· LeVar Burton Reads (SiriusXM's Stitcher Studios)
· The Sum of Us (Higher Ground)
Outstanding Arts and Entertainment Podcast
· Angie Martinez IRL (Media Noche Productions)
· Black Girl Songbook (Spotify & The Ringer)
· Jemele Hill is Unbothered (Unbothered Inc, Spotify, Lodge Freeway Media, Exit 39)
· The Read (Loud Speakers Network)
· Two Funny Mamas (Mocha Podcasts Network)
COSTUME DESIGN, MAKE-UP & HAIRSTYLING CATEGORIES
Outstanding Costume Design (Television or Film)
· Francine Jamison-Tanchuck – Emancipation (Apple Studios)
· Gersha Phillips, Carly Nicodemo, Heather Constable, Christina Cattle, Sheryl Willock, Becky MacKinnon – Star Trek: Discovery (Paramount+)
· Gersha Phillips, Carly Nicodemo, Lieze Van Tonder, Lynn Paulsen, Tova Harrison – The Woman King (Tristar Pictures)
· Ruth E. Carter – Black Panther: Wakanda Forever (Marvel Studios)
· Trayce Gigi Field – A League of Their Own (Prime Video)
Outstanding Make-up (Television or Film)
· Angie Wells – Cheaper by the Dozen (Disney+)
· Debi Young, Sandra Linn, Ngozi Olandu Young, Gina Bateman – We Own This City (HBO Max)
· Michele Lewis – The Last Days of Ptolemy Grey (Apple Studios)
· Ren Rohling, Teresa Vest, Megan Areford – Emergency (Amazon Studios)
· Zabrina Matiru – Surface (Apple Studios)
Outstanding Hairstyling (Television or Film)
· Camille Friend – Black Panther: Wakanda Forever (Marvel Studios)
· Curtis Foreman, Ryan Randall – RuPaul's Drag Race All Stars (Paramount+)
· Louisa V. Anthony, Deaundra Metzger, Maurice Beaman – TILL (United Artists Releasing/Orion Pictures)
· Mary Daniels, Kalin Spooner, Darrin Lyons, Eric Gonzalez – All American (The CW)
· Tracey Moss, Jerome Allen, Tamika Dixon, Lawrence "Jigga" Simmons, Jason Simmons – Fantasy Football (Paramount+)
OUTSTANDING SOCIAL MEDIA PERSONALITY OF THE YEAR NOMINEES
· @Theconsciousless- George Lee
· @thechristishow - Christianee Porter
· @earnyourleisure - Troy Millings & Rashad Bilal
· @KevOnStage - Kevin Fredericks
· @lynaevanee - Lynae Vanee