She Builds Festival Promises Four Full Days of Networking And Empowerment For Women Of Color Entrepreneurs
The event, scheduled for June 8–10 in Miami, will feature prominent speakers covering economic transformation, digital innovation, and much more.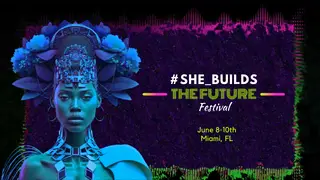 Women of color are the fastest-growing group of business owners around the world. Their global impact is strongly represented in the U.S. by the 13 million women-owned businesses in the country, which also employ over 9.4 million workers. Sub-Saharan Africa, at 27%, has the highest rate of women entrepreneurs worldwide. Now, there's an opportunity for these ladies to come together, listen, and learn from insightful experts who can help take their companies to the next level.
The She Builds Festival is a four-day event from June 8–10 in Miami, Fla., which was created to empower and inspire women of color from the diaspora and African continent who have ventures in technology, business, government, media, entertainment sports, fashion, music, and the arts.
Founded in 2018 by award-winning Haitian entrepreneur Shaina Silva, the She Builds Festival will continue its core mission by helping women of color on a global scale. Today, the initiative spans across 20 cities and four continents. 
"The entire world has entered into an era of digital transformation, where traditional industries are being disrupted by new technologies," said Silva in a statement posted to the event website. "By taking advantage of this (r)evolution, we have an opportunity to radically shift the latent paradigms in emerging markets like Haiti, and leapfrog into a more prosperous future."
This year, attendees can also participate in a pitch competition powered by Pharrell Williams' Black Ambition. The non-profit initiative aims to connect entrepreneurs to capital and potential investors and thus close the wealth gap through entrepreneurship.
In addition to the pitch competition, participants can attend several panel discussions featuring several keynote speakers who will further the conversation around the progress of social justice and growing your business in the digital space. Some of the speakers include: Mia Talvera (Benefit Cosmetics Director, Global Diversity, Equity & Inclusion), Kelly Montoya (Venture Miami – City of Miami– Head of Partnerships), Carmelle Cadet (Emtech–Founder & CEO), Peter Brooks (Paramount/BET Media Group– Vice President of Growth Strategy), Mayola Charles (META–Lead, Social Impact Creator Partnerships), Wanda Tima (L'Union Suite–Founder & CEO) and Sarah Gentillon (MAJP MORGAN & CHASE– VP, Digital Content Lead). Award recipients including  Zerina Akers (Black Owned Everything– Founder), Delphine Gardere (Société du Rhum Barbancourt–CEO), Magalie Dresse (Caribbean Craft–CEO), Latanya Mapp Frett (Global Fund for Women– President & CEO), and Felicia Hatcher (Black Ambition–CEO) will also be featured at the event.  
Miami is increasing its presence as a hub for both technology and entrepreneurship, which makes it an ideal location to host the event. The She Builds Festival was created to serve as a platform to shed light on those who are traditionally underrepresented, and many of those marginalized groups call Miami home.
---