Removing Monuments to Racist Past Is Often a Challenging Job
In Georgia, Black elected officials led a successful movement to remove a statue from the state capitol of Tom Watson, a white supremacist, and the work is far from over.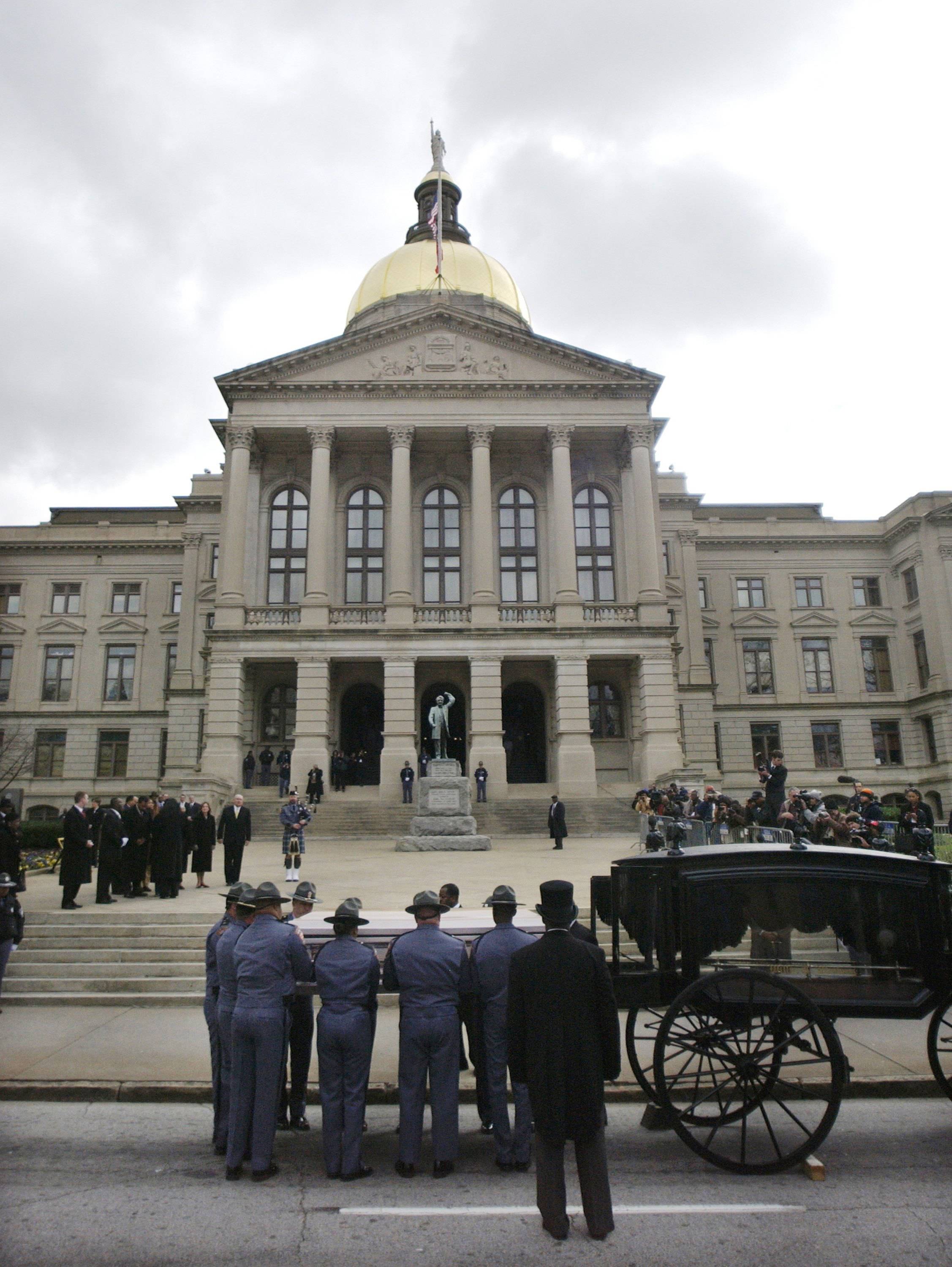 Tyrone Brooks celebrated it as a victory that had been years in the making, and a highly satisfying one.
After a lengthy campaign, a statue of Tom Watson, a one-time populist who was also a white supremacist and spoke degradingly about African-Americans, was moved from the steps of the Georgia state capitol in Atlanta. And Brooks, a longtime member of the Georgia House of Representatives, led the campaign to remove the statue.
"When you walk around the state capitol here, you don't see anything other than a tribute to the confederacy and to racist officials," said Brooks, the president of the Georgia Association of Black Elected Officials, in an interview with BET.com.
"We can't change history, but many of us are concerned about these monuments because there are very few if any African-Americans, Latinos or Native Americans who have monuments or statues built for them," Brooks said. "That's why you see many people like me who are saying that we need to diversify. We need to leave a better message for future generations."
While Brooks and other Black elected officials are cheering the decision to remove the statue of Watson, there is an equally emotional reaction from others, particularly far right groups, who complain that the removal of such statues and renaming of various public buildings represents nothing more than political correctness gone overboard.

Efforts to remove such monuments are typically met with strong resistance. And their campaigns often take years before there is any movement.
In fact, Michael Hill, the head of the League of the South, a secessionist organization based in Kilen, Alabama, said it was a move by the state of Georgia showing that it was "caving in to political correctness."
Similarly, Georgia State Representative Tommy Benton, a Republican, introduced legislation that would make it more difficult for the state to remove statues and monuments.
"I want to make sure that in our politically correct society we don't start moving things that tell our history," Benton said.
"It's all history. Somebody back in the 1930s thought enough of Tom Watson to put a statue up. If we start judging our ancestors, how are we going to be judged? What if we roll over every time someone cries racist or says something isn't politically correct? I bet we would have to remove statues all over the South."
But many African-American officials say that it's precisely the role of history for future generations that leads them to work for the removal of statues and monuments of figures from the confederacy or with racist histories.
"When many people look at these symbols, they ask: Is this the story we want to represent us for future generations," said Alan Williams, a member of the Florida House of Representatives who is also chairman of the Florida Conference of Black State Legislators.
In particular, Williams cited the recent decision by the school board in Jacksonville to change the name of a school named for Nathan B. Forrest, a confederate Army general who was also the first Grand Dragon of the Ku Klux Klan.
"Many of our communities are saying that we don't want our landmarks or our schools to have the presence of people whose history is tied to racism," Williams said, in an interview with BET.com.
Brooks said he is hoping to play a role in removing other statues of figures from the Confederacy or Georgia's figures with outspoken racist views. In particular, he mentioned John B. Gordon, a confederate general who was a leader of the Ku Klux Klan in Georgia. He also said he would target statues honoring Senator Richard Russell and Gov. Eugene Talmadge, two Georgia officials known for harsh views toward African-Americans.
At the same time, he is leading a move to have a statue placed in the state capitol honoring Martin Luther King Jr.
"Why don't we have monuments to Dr. King or Joseph Lowery or other giants of the civil rights struggle?" asked Brooks, who has been in the Georgia legislature for nearly 33 years. "I've introduced legislation to bring Dr. King to the front of the capitol. I may not be around when it happens, but at least I played a part in starting it."

BET National News - Keep up to date with breaking news stories from around the nation, including headlines from the hip hop and entertainment world. Click here to subscribe to our newsletter. 
(Photo: Stephen Morton/Getty Images)