Portrayal Of 'Self Made' Antagonist, Annie Turnbo Malone, Draws Criticism
She is played by Carmen Ejogo in the Netflix series.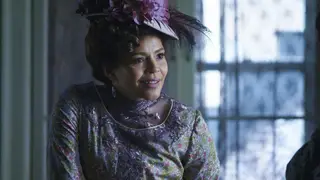 In Netflix's mini-series Self Made: Inspired By The Life Of Madam C.J. Walker, viewers are given a snapshot of the life of America's first Black self-made millionaire. But the word 'inspired' in the title is there for a reason. Many elements, and even people, were dramatized to tell the story, which stars Octavia Spencer in the titular role. 
In the series, based on A'Lelia Bundles' book, On Her Own Ground, Walker is shown overcoming obstacles both personal and professional. One of her key antagonists is fellow beauty entrepreneur Addie, played by Carmen Ejogo. The character of Addie is inspired by real life inventor and philanthropist Annie Turnbo Malone. Before creating her own hair care line, Walker (then going by the name Sarah Breedlove) was a client and protege of Malone's.
On screen, Addie is downright ruthless and persistent in her antagonizing of Sarah, even following her across the country to thwart her business. But in real life it's doubtful that Malone dedicated that much time to harassing Walker because she was very busy building her own business and a school. In fact, author Bundles Tweeted that her character was a composite created by the writers.
"The writers created ‪#AddieMonroeas a composite character. In my book, I write about Annie Malone who was Madam Walker's rival. In reality Malone was a very successful businesswoman & philanthropist. Their rivalry was real but not a centerpiece of ‪@MadamCJWalker's life."
So, what is the truth about Annie Malone? 
She was born in Metropolis, Illinois in 1869. Her parents were formerly enslaved and her father joined the Union Army during the Civil War. While she didn't finish high school she endeavored to be a "beauty doctor," developing her own shampoo and scalp treatment to grow and strengthen hair. In 1902 she moved to St. Louis, Missouri to expand her business. She trademarked her beauty products under the name "Poro." According to author John Whitfield, Poro is a combination of the married names of Annie Pope and her sister Laura Roberts (other sources cite that Poro is also a Mende word for "devotional society"), and sold them door-to-door. 
In 1917 Malone built a four-story, million-dollar factory and beauty college in "The Ville," a historic Black neighborhood in St. Louis, that employed more than 175 people, according to Illinois historian Neil Gale. She was also an active philanthropist, contributing thousands of dollars to educational programs, universities, the YMCA, and to nearly every black orphanage in the country.  She also served as board president of the St. Louis Colored Orphans Home from 1919 to 1943. She was also an honorary member of Zeta Phi Beta Sorority, Inc. 
Monroe died in Chicago on May 10, 1957, but at one time more than 30 Poro schools were operational in the country.
Self-Made is a fictionalized account of history, but in the TV show, fact is not necessarily discerned from fiction. Annie Malone may have been a fierce competitor to Madam C.J. Walker, but the historical record shows she was an active supporter of black people and those in need.