Serena Williams Named 2015 Sportsperson of the Year
Sports Illustrated gives tennis icon top honor.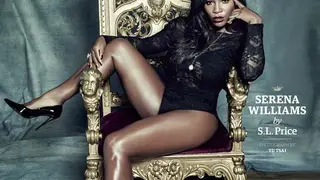 The queen has taken the throne and everyone in the sports world must bow down.
But dominating tennis — and winning upwards of $74 million in prize money in the process — was just part of what made Williams's 2015 such a special year. With the honor, Williams becomes the first individual woman to be named the Sportsperson of the Year since track star Mary Decker in 1983.

"This year was spectacular," Williams told SI. "For Sports Illustrated to recognize my hard work, dedication and sheer determination with this award gives me hope to continue on and do better. As I always say, it takes a village — not just one person. This is not just an accomplishment for me, but for my whole team and all my fans. I am beyond honored."
Williams amassed a 53-3 record this year, winning the Australian Open, French Open and Wimbledon, before suffering a shocking semifinals loss to Roberta Vinci in the U.S. Open in September.
Her impact, though, extended well past the tennis court, as SI points out that Oprah Winfrey hustled to see her play, Martha Stewart called her "the most powerful woman I know" and President Obama told her how great it is to watch her play.
In addition, she once again proved what a great role model she is to girls and young women with her on-court play and strong stance against body-shaming, preaching to be yourself and embrace who you are.

Congrats, Serena! Well-deserved. Emphasis on the served.
BET Sports News — Get the latest news and information about African-Americans in sports, including weekly recaps, celebrity news and photos of your favorite Black athletes.
(Photo: Yu Tsai for Sports Illustrated; December 21, 2015)