NY Judge Dismisses Murder Charge Against State Trooper in 2020 Car-Ramming Death of Brooklyn Girl
New York State trooper Christopher Baldner twice rammed the car carrying Monica Goods at 130 mph.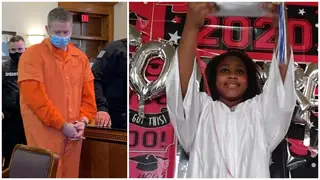 A New York state trooper was charged with murder on Thursday in upstate Ulster County after allegedly killing a Brooklyn girl by crashing his police car at 130 mph into the SUV belonging to her family.
State Trooper Christopher Baldner was charged with second-degree murder in connection with the death of 11-year-old Monica Goods in December 2020. However, Supreme Court Justice Bryan Rounds dropped this charge, citing that the evidence did not indicate that Baldner acted with "depraved indifference to human life" during the high-speed crash that killed Goods, according to the Times Union.
The judge rejected defense attorneys' requests to have the full indictment dismissed while upholding a lesser charge of manslaughter. The office of New York Attorney General Letitia James says it is reviewing that decision.
Baldner is facing a second-degree manslaughter charge for Goods' death and three counts of second-degree reckless endangerment for the other passengers in the vehicle. He is accused of  ramming his police car twice into the back of an SUV driven by Goods' father, Tristin Goods. He was attempting to escape Baldner after the trooper pepper sprayed him during a traffic stop.
Tristin Goods claimed he accelerated because he was afraid for his life. His SUV flipped over a guardrail after the second of two rammings by the state police vehicle. His daughter was pronounced dead at the scene.
Rounds determined that the evidence throughout Monica Goods' case and another ramming incident in 2019 "rationally demonstrated showed that the defendant [Baldner] ignored — and created — multiple perils that presented, at a minimum, a grave risk of physical danger."
Baldner also violated state police protocol when he rammed the SUV, according to the judge, who also pointed out that ramming a vehicle during a pursuit, known as a "pit maneuver," was permitted by state police in extremely rare circumstances. He also mentioned that according to state police grand jury testimony, Baldner hit the brakes between the first and second times he rammed Goods' SUV.
The judge wrote, "[T]he evidence rationally supports only the conclusion that this defendant [Baldner] ignored agency protocols and exercised extremely poor judgment in a foolish attempt to perform his job as a police officer as he saw it — in short, that he acted recklessly."
Manslaughter in New York state is defined as causing someone's death as a result of reckless activity.
Joseph O'Connor, a lawyer representing Tristin Goods in a lawsuit against the state police and Baldner, said he completely disagreed with Rounds' reasoning, and that the depraved indifference displayed by Baldner is consistent with a second-degree murder charge.
The NY Post quoted O'Connor as saying, "This is a person who directed his car at 130 miles an hour essentially at two little children and when he wasn't successful, he did it again." O'Connor continued, "If that isn't depraved indifference, I don't know what is. State troopers are trained, so they know doing that could harm human life. I am astounded by the decision."
After the deadly accident, Baldner was recorded at the scene claiming that Tristin Goods rammed his vehicle. "He f——— rammed me," Baldner told other emergency personnel.
A state police investigation, however, found that Baldner was the one who rammed Goods' vehicle, not once, but twice.
The Goods family has raised additional concerns about the state police investigation including the decision to transport Monica's sister Tristina to a state police barracks in the hours following the crash, where she was questioned without an adult present.
Baldner was indicted on eight counts by an Ulster County grand jury led by James' office, including one count each of murder and manslaughter, three counts of reckless endangerment for Monica's Goods' death, and three counts of reckless endangerment for the 2019 incident in which Baldner is accused of ramming another vehicle.
Baldner is from out of the woods. This case is not over just because the murder charge was dropped. The other charges are also serious and pending.
"We await the attorney general's decision whether to appeal," said Sanford Rubenstein, a well-known civil rights and personal injury attorney who represents Monica's mother, Michele Surrency. "Ultimately, there will be a trial because the judge only dismissed the murder charge. The manslaughter charge remains."