LOL: Kevin Hart Drags a Hater Straight to Hell and It's Hilarious
You don't want to get on his bad side.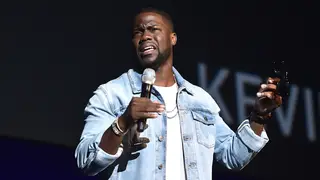 Trolls, take note: the last person you want to pick a fight with on social media is a quick-witted comedian. Apparently, someone named kay_kay_001 didn't get that message, and got dragged all over Instagram by Kevin Hart.
The fan thought she was doing Hart a favor by warning him of his fiancée Eniko Parrish's intentions, writing, "You only have her because of your money... do not get it twisted... women play games."
Well, Kev don't play, either.
The typically happy-go-lucky comedian and actor morphed into attack mode after the diss, and unleashed his fury on the hater. Did he really have to add the P.S., though?
That'll teach her.
Craig Robinson already knows you don't want to make an enemy out of Kev Hart. Watch a clip from Real Husbands of Hollywood, above, to see why.