Meghann "Thee Reporter" Cuniff Recounts Her Viral Coverage Of Tory Lanez Trial
The legal reporter went viral in Black Twitter circles for her timely and accurate tweets during the Tory Lanez trial.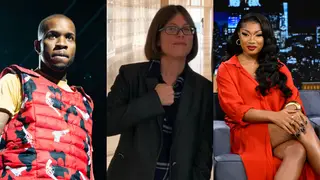 The trial of the State of California vs Daystar Peterson, also known as Tory Lanez,  was destined to be a media sensation. The Canadian rapper stood accused of shooting Grammy Award-winning rapper Megan Thee Stallion more than two years prior. The trial lasted over a  week with limited media presence in the court. Reporters from Billboard and the Los Angeles Times tweeted recaps daily, but the internet and social media was quickly littered with misinformation from urban bloggers. Including an inaccurate report that Lanez was found not guilty. He was ultimately found guilty of all charges and faces up to 22 years in prison.
Meghann Cuniff, a reporter and editor based in Southern California, has been covering legal and political news for more than a decade. A native of Oregon, she isn't an attorney but credits her father who was—and who often talked about the law over the dinner table. Cuniff, who currently writes for Law & Crime, a website that covers high-profile trials, became a viral sensation as she efficiently covered the trial with her tweets which offered a virtual lifeline into the courtroom.
Cuniff recently sat down with BET.com to talk about her experience covering the trial and what it felt like to become a star of Black Twitter.
BET.com: One of the things that you noted on Twitter, was how the trial seemed to have such weird timing and to stretch over the holiday season. Can you tell me a little bit about that?
Cuniff: You know, I think that was just largely driven by the fact that the judge has so many cases. I didn't see the pre-trial discussions that they had. But, obviously, everyone eventually agreed that this would be an acceptable time to do the trial. And part of his trial schedule was driven by the fact that he has such a busy case schedule, while some judges would cancel their hearings and just focus on the trial for a few days to get it done…He did hearings for other cases in the morning and then heard testimony later on. So it kind of extended the trial out for a couple of weeks.
BET.com: There's so much that happened in the trial, and were you expecting the way that you turned into this viral sensation?
Cuniff: No, I really wasn't, I was, you know, surprised by it. And really flattered, too. I mean, I would just want to thank everybody for paying attention to my coverage, and, all the support with the Meghann Thee Reporter stuff, it's just really flattering.
And, it was an honor to see that so many people were trusting me with that coverage, and it felt like a really big privilege to kind of be accepted. And then,  to learn so much about Black culture and Black Twitter, and a culture that's not mine, and something that I can't claim to be a part of at all. It was just really cool to be able to kind of feel like I had a front-row view of a lot of education in that area. And it's definitely something that I want to keep recognizing for sure.
BET.com: One of the things that definitely went around on Twitter was kind of the lack of Black reporters covering the trial. Can you speak to that? Were there other Black journalists present? I know you can't speak to an outlet assigning someone there. But I remember some of your tweets and when you talked about, like, limited seating.
Cuniff: Yeah, it was hard to get in, you had to sign up ahead of time to get trial seating. And, there were a lot of people covering it, especially in the beginning, Billboard had a reporter there. The NPR podcast "Louder Than A Riot,"  had Gabriella, the producer, there the first week, and then I have to admit to being a little star-struck when I saw that she was following me on Twitter and also Rodney Carmichael because he did that really great series on hip hop in mass incarceration that I had listened to.
But, I mean, just being in a courtroom like that can be kind of exhausting and having to go every day. And then also, for people who are from out of town, and the trial schedule, having it run into the Christmas holiday, made it so not everybody could stay the whole time. I certainly learned a lot from Gabriella and Louder Than A Riot's coverage because they knew so much background of the case.
People will say that they're kind of jealous that I get to see so many different trials because you see so many different lawyers in action, and you just kind of know what to expect and kind of know what to watch and know its significance. So and then, you know, add in just the speed and having an audience on Twitter, I've always liked Twitter. I mean, there's been so much drama with it recently. But this was a good reminder that there's so many people who put up good stuff, and it's just a really good source of fast information.
BET.com: In your role, and with your experience, when you're covering a trial, do you begin to form an opinion? Like, maybe not relative to guilt or innocence, but kind of about winning and losing, for example?
Cuniff: Yeah, yeah, you can kind of start to get a feeling for how things are going if one witness kind of was a win for the defense or prosecution, it's always kind of risky to make too much too bold of a statement or say that publicly because you never really know what the jury is thinking. But it feels like, especially near the end of a trial after you've been watching the whole thing. And if you've been paying attention to the jury, you can kind of get a feel for how things are going.
Although every case is kind of different. Sometimes you just really don't know how things are gonna go. In this case, the thing that really stood out to me was the apology call. I mean, definitely, the text message that he sent Meg that night, but also the call from jail because that's when you actually hear his voice when he's talking to Kelsey and I remember just hearing it and being like, 'Oh, wow, that's it, you know, this is kind of crazy.' Like, why didn't you take a plea deal kind of thing?
And the defense just never really resolved that call.
BET.com: I know that you mentioned, when they polled the jury, and the man who kind of was a little, was a little louder than everyone else. But, you know, what are some other observations that you made about this jury?
Cuniff: Um, they definitely all seem to be paying attention. I mean, sometimes in other trials, you'll kind of see some drifting off that kind of thing. But everybody seemed really into the evidence. And at least— definitely near the end of the trial, the women who were there—were like six women seated right next to the area closest to me, and some of them had masks on. So it was a little hard watching them, but one of them in particular, it was like, wow, she was just staring. Like a death stare at Tory.
And I had always kind of thought it's like, people were talking about DNA evidence and that kind of thing. And, I'm kind of wondering if gender science is going to be more of an issue here than DNA science. Because you know, the thing about Tory and the two timing or that kind of thing, it totally ignores the fact that men are overall completely responsible for like the vast majority of gun violence in this country.
You know, the idea that a woman is going to pull a gun and shoot another woman like that, I mean, it does happen, but it seemed like that was always kind of a tough thing for them to get around. Especially when they were once best friends, I didn't think that the whole kind of jealous rage defense would play very well, especially with the women on the jury. And it really didn't seem to be playing well. One woman in particular, just looked like she was ready to leap over and just go after Tory, and she was an alternate juror too.
But, in the end, it did take them seven hours over two days. And they had questions, you know, they wanted to hear testimony read back and, and the jurors were really careful. And there was one juror on there, he was an older guy, network engineering guy who'd served on three juries before and sometimes jurors like that, want to be more careful, because they've been they've seen the process on other juries where they really went over the evidence and you know, if they're gonna convict somebody like that, they don't want to just go back there and, and do it on a whim.
And people who aren't really used to the jury selection process or don't really know the judges and the attorneys and kind of understand that not everything, you know, it's not a conspiracy like the idea that you could ever stack a jury or like get somebody on a jury that's like a plant or something, I think is like, even if you wanted to, you know, it would just be really hard.
BET.com: Can you speak to Megan's presence in the courtroom, like how she presented as a witness?
Cuniff: Yeah, she definitely walked in. I mean, her bright purple suit made a statement for sure. And she had this really colorful purse that you've probably seen the pictures of so she looked, she looked cool when she walked in. But just because she looks cool, doesn't mean she wasn't in a really nerve-wracking situation.
So you know, when she sat down and got into the testimony, you know, being in a courtroom like that, for any kind of witness, in any kind of case, it's uncomfortable to be up on the witness stand, like that, to say the least. And then when you're a victim and a high profile case like this, and, you know, she talked about the fact that in her community, it's not considered acceptable to talk to cooperate with law enforcement.
She was up there for 40 minutes in the beginning, and then they had the 90-minute lunch break. So when she got back up on the stand, the prosecutor kind of asked her about the fact that you know, did you kind of have your wall up in the beginning and she said, yeah, that she's not comfortable sitting there at all.
And she has to do it in front of Tory and these people who have been kind of making her life miserable for a long time. So they were able to kind of get more, you know, kind of revisit some issues they talked about earlier in testimony, and she was a lot more expansive in her answers after the break.
About how she didn't want to testify and then also her own explanation for why, you know, when they first got pulled over, she just told the police that she'd stepped on glass.
You know, some of the quotes in her own testimony, the prosecutor in his closing argument, was able to use to kind of highlight, you know, it was a big moment.
BET.com I guess my last question would be about the reaction to Tory's father, Sonstar Peterson. I feel like even from your tweets that, you know, you talked about how it was just startling and a scary situation. Can you kind of walk us through what happened?
Cuniff: Yeah, they announced the guilty verdict. And then they polled the jury, and he was sitting in the aisle seat right next to me and he stood up and really forcefully started yelling and I think it just startled everyone. I mean, we shouldn't be surprised that he was upset that his son was convicted.
And you know, in his defense, he wasn't getting physical with anyone either. But I think I think it just scared everyone how loud he was in what he was screaming about wicked injustice. And then, you know, we don't know him personally. So we didn't know if he was gonna get physical. But I think what really kind of heightened the chaos was the fact that the court didn't have enough deputies in there at all.
I mean, when the father stood up yelling, kind of approaching prosecutors with his fingers out, screaming, the step mother stood up and you know, she was just upset and kind of flailing her arms. It's not like she was going after anyone physically. But the deputies were all a little like, whoa, and there's only six of them there. And they were trying to kind of get the family under control and get them out. But at the same time, you know, Lane's is not in handcuffs, but he's about to be and so they've got to kind of keep a hand on him. So it was just a chaotic scene.
I swear they had more deputies for Harvey Weinstein than they did for this and Weinstein is 70 and in a wheelchair, you know, the court did not plan for that very well. So we all definitely kind of expected some, some chaos, but we'd hoped the court would have been a little more prepared. And he was just so loud—it was like, wow. And then Lanez also had supporters around the courtroom. And I think it just underscores how passionate some people were. And were  like, really invested in case. So like I said, I mean, there, it's almost like, we were startled by what happened.
BET.com: Were there any personal attacks on Twitter that you were surprised by, and were you surprised by the intensity of the misinformation?
Cuniff: Yeah, yeah, it was interesting, the misinformation—for the most part, especially when I cover a trial, I'm like, so busy covering the trial that I don't really have much time to, like, read other coverage. So I did kind of have tunnel vision.
And, you know, I thought it was cool that like if people did, you know, criticize me, it seemed like, it seemed like people would kind of go to my defense, but overall, it was, it was awesome, but it was also just a reminder that like it's a really sensitive topic for some people because I did see one tweet that somebody was saying like, like, oh, you know, this white lady needs to leave Tory alone and go put on put back on her KKK hood or something…and that made me wince. And then also, it was a reminder that, like, it's a really sensitive topic to some people.
And, you know, I did see a tweet that said early on, you know, it's unfortunate that a white lady with a bob is our only source of accurate information or something—and I just tried to take it for the compliment that it was because it's and I that I didn't truly understand (the background of the case) and that's something I want to know more about. So, I just tried to remind myself that it's a huge learning opportunity. And a huge reminder that this was so personal and important to a lot of people.