Megan Thee Stallion's Attorney Ponders Legal Action Against Bloggers
Her legal team is "exploring all legal options."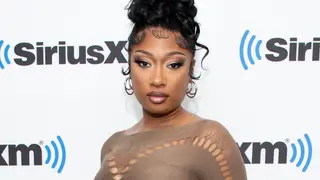 With the jury still deliberating in Tory Lanez's assault trial, Megan Thee Stallion's legal team is reportedly "exploring all legal options" against those who have posted misinformation about the case's legal proceedings.
According to NBC News, Megan Thee Stallion lawyer, Alex Spiro, said he and Megan are considering legal action against outlets that "purposefully shared misinformation" about the case. Currently, they've been flagging social media posts as abusive content, including that of blogger Milagro Gramz.
In May, Gramz shared an image of an LAPD report from the Houston rapper's arrest stating the first doctor to see her "confirmed laceration due to stepping on glass." That post though did not include the fact that the report was written before bullet fragments were discovered in Megan's feet during surgery. As a result, many labeled the post as "proof" the rapper wasn't shot at all.
DJ Akademiks later shared Gramz's post in a live stream, adding conspiracy theories that Megan was never hit with bullets.
The NBC News piece, published on Wednesday (December 21), was an all-encompassing look into the media coverage of the incident and trial that formed following the July 2020 incident. Speaking to the news outlet, Gramz said her reporting isn't always meant to be "factual," but sometimes just comedic commentary.
"On my end, everything is not going to be something that was intended to be a factual statement," Gramz said. "It might have a comedic effect."
Seven of the blogger's tweets were reported to Twitter by Megan's legal team, resulting in her account being locked for 11 hours due to violations of Twitter rules.
NBC News also reached out to several bloggers and outlets, including NoJumper's Adam22, Hollywood Unlocked's Jason Lee, and others.