Joyce Bryant Known As 'The Black Marilyn Monroe' Dies At 95
The actress and activist was known as 'The Bronze Blond Bombshell.'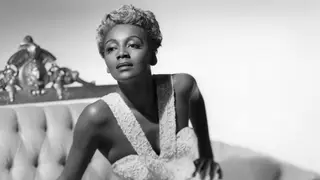 Joyce Bryant, often referred as the "Black Marilyn Monroe," has died at 95.
The death of 1940s singer and actress who also went by the moniker "The Bronze Blond Bombshell" was confirmed by her niece on Bryant's official Instagram page on Monday (Nov. 21).
"What a woman she was I will share our journey soon and please don't forget auntie she loves each and everyone of you," the post captioned in part.
Bryant rose to sultry sex symbol status and was recognized for her low-cut mermaid gowns, striking hair and iconic vocals.
Also known for her activism, Bryant fought against racial inequality and soon broke boundaries as the first Black performer in several high-profile venues like the Miami Beach Hotel and Casino Royal.
The cause of death of Bryant is unclear at this time.