Martin Lawrence, Ludacris, Lenny Kravitz, And Other Black Talent Top The 2023 Class Hollywood Walk of Fame
Some of the honorees are long overdue. Congratulations! 🎉 🍾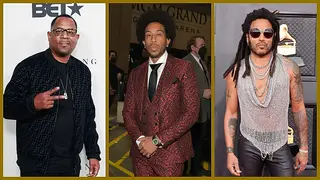 The Hollywood Chamber of Commerce announced its 2023 class of honorees for its coveted Hollywood Walk of Fame on Friday (June 17). Selection Panel Chair Ellen K revealed the new class in a quick video.
Topping the list are R&B veteran and Tony winner Melba Moore, heartthrob and rocker Lenny Kravitz, Atlanta rapper-turned-actor Ludacris, percussionist-extraordinaire Sheila E., Charlie Wilson, known as everybody's favorite Uncle Charlie from the legendary soul group– The GAP band, comedy veteran and Saturday Night Live alum Garrett Morris and comedian Martin Lawrence. The groundbreaking actress who starred in the 1959 version of Imitation of Life star Juanita Moore will be honored posthumously. She passed away in 2014. The roster of talented entertainers is distributed over four categories– theatre, television, motion pictures and recording.
The Walk of Fame's official Twitter account posted a touching video of a tearful Sheila E. sitting with her parents–Juanita and Peter Escovedo– as she thanked them and the committee for honoring her.
In total, there were 24 honorees and 12 of them fall into the music category. The other honorees are Marc Anthony, Pentatonix, Paul Walker, Jenni Rivera, The Jonas Brothers, Irving Azoff, Blake Shelton and Lang Lang- to name a few.
The 2023 class has 14 fewer honorees than this year's, and there were no honorees in radio and sports.