Kylie Jenner And Jordyn Woods Spotted Wearing The Same Cheetah-Print Dress
The two besties were posted on Instagram wearing the same dress just two weeks apart.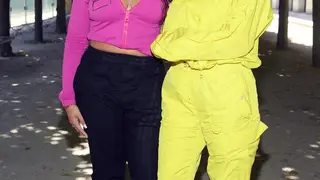 After breaking down three plausible reasons to support our "throuple" speculation:


Jordyn's role in Kylie and Travis' pregnancy tribute video to Stormi.


The three vacationed together right after Kylie gave birth.


Kylie's "JW" promise ring that she rocked on behalf of Travis and Jordyn.


We now have another reason to believe the theory. Outside of Kylie, Jordyn, Travis and baby Stormi recently jet-setting to Cannes, France, together to support Travis for a concert and the Louis Vuitton men's show, the pair are now sharing clothes. 
Yep, we spotted besties Kylie and Jordyn wearing the same cheetah-print dress. Early June, we reported on the ladies getting matching piercings while on a rustic girls trip. And Kylie showed off her figure in this (see below) animal-print maxi.
Fast forward to yesterday and Jordyn posed on the 'gram while on vacation with Kylie, Travis, and Stormi in what appears to be that same dress Kylie posed in two weeks ago.
Still think we're wild for calling sister wives? Kylie has too much monies and too much of a fashion presence to be sharing clothes, but if that's bae, then we get it.
BET fam, what y'all think?