Las Vegas Raiders Owner Says He'd Welcome Colin Kaepernick 'With Open Arms'
He said he'd sign off if team personnel would be interested in bringing him in.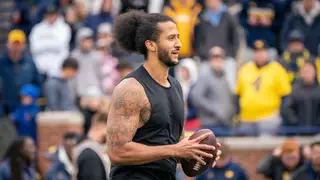 With free agency and the draft getting much attention during the NFL off-season, former San Francisco 49ers quarterback Colin Kaepernick continues to train and keep in peak shape in case a team is interested in offering him a roster spot.
Apparently, the Las Vegas Raiders are at least open to the possibility, according to the team's owner. Speaking with NBC Sports' Race in America: A Candid Conversation, Mark Davis revealed he'd be interested in bringing in the former San Francisco 49ers quarterback if team personnel wishes to sign him.
"Listen, I believe in Colin Kaepernick, and he deserves every chance in the world to become a quarterback in the National Football League," Davis told host Monte Poole. "I still stand by it. If our coaches and general manager want to bring him in or want him to be the quarterback on this team, I would welcome him with open arms."
Up until now, Davis has been the only owner in the NFL to express an interest publicly in Kaepernick since rumors of a possible return began circulating in recent weeks. Even if the Raiders did sign Kaepernick, he likely wouldn't start, considering the team currently employs big-money starter Derek Carr.
Regardless, Kaepernick, who last played in 2016, has been posting videos of himself working out with both professional and amertur athletes since March. Earlier this month, he noted that he'd be fine with returning in a backup role just a couple weeks after he participated in a high-profile throwing exhibition during University of Michigan's spring game.
See the full conversation here.