Megan Thee Stallion Shares High Intensity Workout Routine
"The results have been resulting," said the rapper.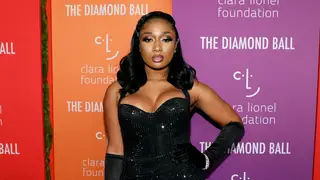 Megan Thee Stallion has been hitting the gym hard these days and has the body to prove it.
Earlier this week, the "Savage" rapper shared a video montage of her fitness routine that will make you break a sweat, as reported by PEOPLE. In the post, she includes several exercises that target the total body.
"Gym Recap💪🏽 also this jersey mix of #BONGOS goes crazyyyy in the gym👏🏽," the captioned the post as a nod to her newest feature with Cardi B.
The behind-the-scenes gym diary opened with her standing in front of a full-length mirror sporting green Nike workout gear while showing off her belly ring.
"The results have been resulting," she said in the video's voice-over. "The word for the rest of the year is consistency."
In the video, the self-proclaimed Hot Girl Coach is seen weightlifting while explaining her recent return to the gym from a New York getaway that led her to ask her trainer to "take it easy on me." But for her trainer, it was a "No" filled with tough-love. "I seen you doing all that hot girl s- - - -, so what you need to do is get in the gym and have that same energy." We know that's right, coach!
As the video continues, the Houston native is captured doing an intense drill with resistance bands and a large stability ball. "This s - - - burn like a m- - - - - - f - - - - - , but I know ya'll seen them thighs popping!"
During another frame of the video, the Grammy winner performed a set of bear crawls, along with a jump rope set. Although she said, "I'm not good at jump roping" the rapper declared, "I will get better."
While it appears our girl had an adrenaline-packed workout, she hopes sharing this vulnerable moment will encourage others. "I just want to be transparent with ya'll. Working out hurts, but it's really a mental thang, so go do it!"