Black Yale Grad Student Records 'Unstable' White Woman Call Cops On Her For Sleeping In The Lounge
Despite proving she was a student, Lolade Siyonbola was made to feel as if she didn't belong.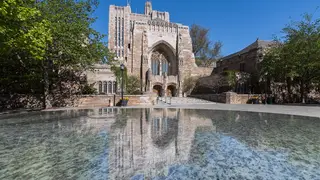 It seems as though there is a new epidemic plaguing white communities called "dial 911 when you see a Black person just living their life." The most recent case of this affliction was recorded when a white grad student at Yale called the police on a Black Yale grad student when she took a break from writing her paper and took a nap in the common lounge.
Early Tuesday morning, Lolade Siyonbola was questioned by Yale Police officers for over 15 minutes after Sarah Braasch called the police, reported the Yale Daily News.
Siyonbola recorded the interaction she had with Braasch as well as the officers. 
According to Siyonbola, she was writing a paper in the Hall of Graduate Studies common room when she fell asleep. Braasch, who Siyonbola described to officers as "unstable," then came into the common room, turned on the lights, and told Siyonbola she was not allowed to be there.
Siyonbola filmed a brief interaction with Braasch.
Shortly after, Yale police officers arrived on the scene, where they asked for Siyonbola's ID and questioned her. 
"You're in a Yale Building and we need to make sure that you belong here," one of the officers said to Siyonbola.
"I deserve to be here; I paid tuition like everybody else; I am not going to justify my existence here," Siyonbola told one of the police officers. "I am not going to be harassed."
Then a YPD supervisor arrived an told Siyonbola that the verification of her student ID and living status at HGS was "protocol."
After having some issues finding Siyonbola in university records, police realized her name was misspelled in the database. According to Yale Vice President for Communications Eileen O'Connor, the preferred nickname on Siyonbola's student ID differed from her full name in the student database used by YPD.
Graduate School of Arts and Sciences Dean Lynn Cooley sent an email on Tuesday which invited students to openly discuss their concerns in the wake of the incident.
"Incidents like that of last night remind us of the continued work needed to make Yale a truly inclusive place," Cooley wrote. "I am committed to redoubling our efforts to build a supportive community in which all graduate students are empowered in their intellectual pursuits and professional goals within a welcoming environment. An essential part of that effort must be a commitment to mutual respect and an open dialog."
However, Siyonbola told the Yale Daily News that she found Cooley's response inadequate.
"The response from Dean Cooley has been terrible. I don't remember receiving any sort of apology or anything from her the first time, and this time the email that she sent was very vague, just not decisive, it just wasn't direct with what the actual issues are," Siyonbola said. "Do you want black students at Yale or do you not want black students at Yale? If you do, then be very clear about taking decisive action so incidents do not continue to happen. We don't want to wait for a fatality, we don't want to wait for what happened at Harvard before actual action is taken on this."