DJ Premier Claims Dr. Dre Blocked 50 Cent Collaboration
The legendary producer told The Breakfast Club that he wanted to collab with 50 before his historic debut album.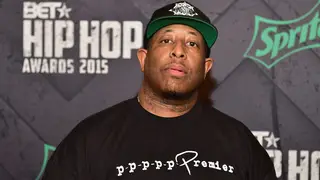 Legendary hip hop producer DJ Premier is reflecting on his historic career which features collaborations with some of the biggest names in hip-hop. In an interview with The Breakfast Club this week, Preemo shares one collaboration that never got to see the light of day.
"[Fat Joe] signed me to Terror Squad, and we were supposed to do a project like a compilation album the way Khaled does his, and the first single I was going to drop was a 50 Cent record," Preemo told The Breakfast Club, per HipHopDX. "This was when everybody wasn't really messing with 50 to the fullest because he was having too much drama after doing 'How To Rob,' and me and Fif hit it off right away and clicked when I got on the phone with him."
He continued, "He said he would do the record, and right when it's about time to do the record, we get a call that Fif can't do it. I'm like, 'Why not?' and they like he's about to sign to Eminem and Dr. Dre, and I'm like, 'Noooo,' because we already committed to us and I talked to Dre and Dre was like 'Preem, I love you, but he's not doing any more recording until he does his debut album.'"
50 would go on to release his now-classic debut, Get Rich or Die Tryin' in 2003. The album was the best-selling album of that year and in 2020–was declared 9x platinum.
In a collaboration with Mass Appeal, the legendary producer just released DJ Premier's Hip Hop 50 Volume 1 which is a five-track EP featuring Nas, Lil Wayne, Joey Bada$$, Run The Jewels, Slick Rick, Remy Ma and Rapsody. The album is part of an extensive multimedia campaign to celebrate the 50th birthday of hip-hop.