Fat Joe To Aspiring Rappers: 'Plan A, Get A Job. Plan B, Hope You Make It'
"You got to pay some bills," he says.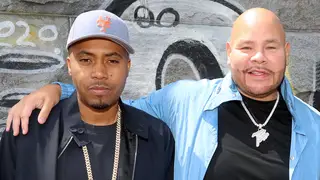 Fat Joe is a hip-hop veteran, so any advice he imparts about the culture and its main players should be listened to.
The Bronx rapper took to his Instagram Live Memorial Day weekend and noted how yesterday's price could very well be today's price if aspiring rappers aren't making significant progress. And oh yeah, that price is probably zero.
"If your man said he raps and he don't have a deal. There's a problem with that," he said, noting that aspiring rappers should get a consistent job as their "plan A in life is bringing in a check, regardless if it came from music. "It's called plan A, get a job. Plan B, hope you make it. This has never changed.
"Some guys be like, 'I gotta get a regular job?' Bro, you gotta get a job! If you got kids and you got this girl that got an apartment and y'all sexin' it up every day, you got to pay some bills," Joey Crack added before quoting Nas' classic Illmatic song "Life's A B***h:" "And that dollar and a dream – 'That buck that bought the bottle could've struck the lotto.' Nah!"
This didn't sit well with some of the commenters, many of whom said it's not Fat Joe's place to tell anyone what they should do with their life. See what Joe had to say below.