Dean's List College Student Indicted On Charges Of Selling 73 Guns To NYPD Undercover Officer
Shakor Rodriguez, who once maintained a 3.5 GPA, is now facing more than 300 gun trafficking counts.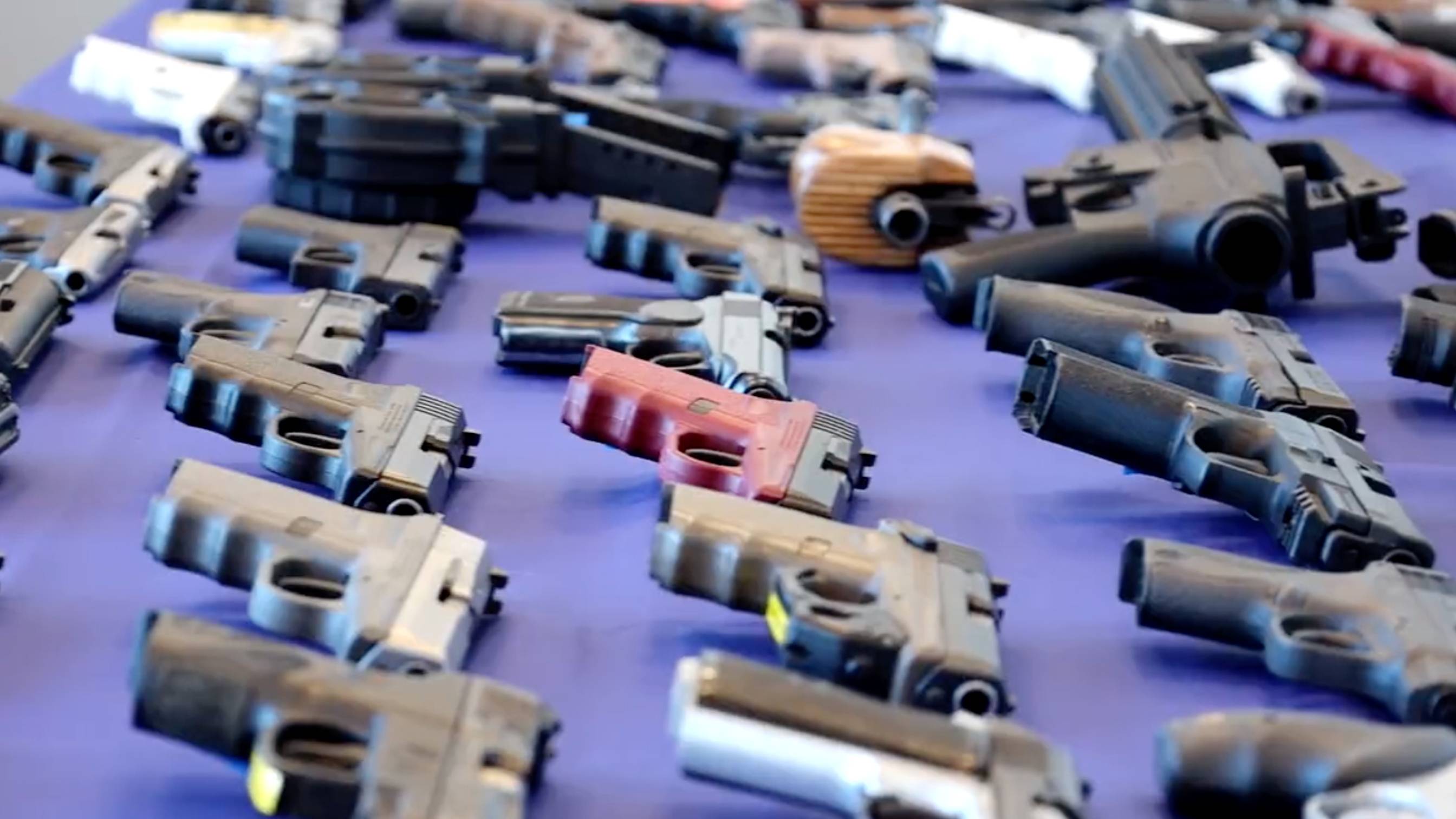 A college student who was reportedly once on his school's dean's list was indicted on hundreds of gun trafficking counts after allegedly selling dozens of firearms and high capacity magazines to an undercover New York City police officer.

Bronx, N.Y., District Attorney Darcel Clark announced on Wednesday Shakor Rodriguez, 23, who is originally from the Bronx, but was attending Austin Peay State University in Clarksville, Tennessee, is charged in two separate indictments with a total of 304 counts of criminal firearm sales, weapons and ammunition possession.

After a yearlong sting operation, Rodriguez was arrested Dec. 22 and arraigned Jan. 24 on 79 counts of illegally transporting firearms from Tennessee to New York.

"The defendant allegedly brought these semi-automatic weapons and high-capacity magazines up from the south, sometimes transporting them in a duffle bag by bus," Clark said in a statement. "Dozens of the firearms were loaded and four are considered assault weapons. The NYPD worked diligently to intercept these deadly weapons before they hit our streets. Bronxites are dying from gunfire and we cannot tolerate one more illegal gun in our community."

According to NYPD investigators, between July 2020 and December 2021, Rodriguez, nicknamed "Sha" sold an undercover officer 73 guns, 59 of which were loaded and also more than 40 high-capacity magazines, including several "drum" magazines, which can increase the capacity of a semiautomatic weapon. The undercover cop normally paid between $1,000 and $1,500 per firearm.

The investigation, dubbed "Operation Overnight Express" revealed Rodriguez allegedly sold the weapons in his old neighborhood in the Bronx and also in parts of Manhattan. Police also allege that he transported the guns in duffle bags and sometimes took bus trips with them to New York. Officials have not yet determined where he supposedly got the guns.

In the Fall 2020 semester, Austin Peay listed Rodriguez as one of 2,000 students at the school who made its dean's list by maintaining a 3.5 grade point average, majoring in Academic Focus. An Austin Peay spokesman confirmed to BET.com that Rodriguez was currently enrolled this spring semester, but could not comment further because the case is considered an active investigation.

The arrest comes as New York mayor Eric Adams continues to try to find ways to deal with violent crime across the city. Two NYPD officers, Jason Rivera, 22, and Wilbert Mora, 27, recently died of gunshot wounds received Jan. 21 when they responded to a domestic violence call. The shooter, Lashawn McNeil, 47, also died after another officer returned fire.

RELATED: Memphis Boy Who Wrote Letter To Governor About Gun Law Dies From Gunshot Wound
OPINION: It's Time To Speak Up About The Undiscussed Effects of Gun Violence Trauma

Adams will meet with President Biden next week in New York to discuss how the White House will support plans to combat gun violence, including a major increase in funding to place more police officers on the street and invest in community violence prevention, according to a Biden administration statement.

Loretta Cook, a woman who said she knew Rodriguez growing up and described him as "low profile," said that she was surprised to hear that he might be involved in illegal activities like gun trafficking.

"I would not have expected that of him," Cook told The New York Post. "He wasn't a thug, he was respectful."
Rodriguez is due back in court on Jan. 31, according to the Bronx District Attorney's office.