Watch: Tim Duncan's Greatest NBA Moments
He has many.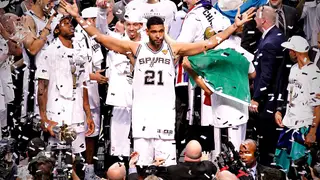 Although the announcement was a quiet one, living up to Duncan's laid-back demeanor, his accomplishments are anything but soft-spoken. In fact, they jump off the page, as the lock future Hall of Famer will always been synonymous as a winning champion and arguably the greatest power forward the sport has ever seen.
Here, we take a look at Tim Duncan's greatest NBA moments.
With the top pick in the 1997 NBA Draft, the San Antonio Spurs selected Tim Duncan out of Wake Forest. The 6-foot-11 power forward was immediately put in the paint with Hall of Famer David Robinson, forming the best one-two inside punch in the league at the time. And it wouldn't take long for them to work magic together, either.
Leads Spurs to NBA Title in 1999
At just 23-years-old, Duncan led the Spurs to an NBA Finals victory over the New York Knicks. Duncan averaged 21.7 points, 11.4 rebounds and 2.5 blocks over that postseason and was named NBA Finals MVP. Legend born.
Just three years after leading the Spurs to a title win, Duncan had proved himself as being arguably the best player in the game. Proof of that was his first of back-to-back league MVPs from 2002-03. That first MVP campaign had him averaging a ridiculous 25.5 points, 12.7 boards and 2.5 blocks per game. Can't deny those numbers.
Duncan Leads Spurs to Another Title
Another NBA Finals, another NBA Finals MVP in 2003. The Big Fundamental strikes again, making for an extra-sweet send-off for "The Admiral," David Robinson.
Duncan Leads Spurs to 2005 NBA Title
Facing one of their toughest tests, Duncan and the Spurs eeked out a seven-game Finals victory over the Detroit Pistons in 2005, marking Tim's third ring and third Finals' MVP. 
Spurs Win 2007 NBA Finals
The 2007 Finals pit Duncan and the Spurs against a young LeBron James and the Cleveland Cavaliers. King James showed how great he was, but just didn't have enough pieces around him, as Duncan and the Spurs took advantage, pulling off the clean sweep. Fourth ring.
Spurs Win 2014 Championship
Duncan and his veteran teammates managed to keep the Spurs a strong contender in the West for several seasons to come, although they suffered one shortcoming after another. None of those postseason losses were tougher to stomach than the 2013 Finals, when the Spurs owned a 3-2 edge over LeBron James and the Miami Heat and were seconds away from clinching the title in Game 6, only to allow Ray Allen to knock down a clutch three-pointer and for the Heat to rally and win the title.
The Spurs carried the sting of that loss into the 2014 Finals in a rematch with the Heat. And Tim Duncan made sure that there wouldn't be any shortcoming then, helping to lead a deep Spurs' squad to a convincing 4-1 drubbing of Miami for the future Hall of Famer's fifth championship title. Just call him the ring collector.
Tim Duncan — a true winner, basketball legend and soon-to-be Hall of Famer. Class act.
BET Sports News — Get the latest news and information about African-Americans in sports, including weekly recaps, celebrity news and photos of your favorite Black athletes.