Kelly Rowland Dishes On Her Least Favorite DC Song And Michelle's Infamous Fall
On "Watch What Happens Live With Andy Cohen," the singer also addressed rumors of a possible Destiny's Child reunion.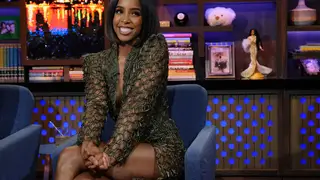 Kelly Rowland was recently on Watch What Happens Live With Andy Cohen, joined by television personality Nene Leakes, to talk about her new Lifetime holiday movie, Merry Liddle Christmas.
In Cohen's usual live-taping fashion, he placed Kelly in the hot seat and picked her mind on all things Destiny's Child. In one clip from the show, Cohen fired off a quick round of questions to Kelly about some of her most-cherished DC moments and other not-so-fond early career memories. 

Naturally, Cohen wondered if sparks ever flew between Kelly and Nelly following the release of their smash single, "Dilemma," which Kelly empathetically shot down. She was even less excited to explain why she was texting the St. Lunatics honcho in Excel as shown in the 2002 music video, although she was happy to share her favorite and least favorite DC records.

"My favorite would have to be anything from last Destiny Fulfilled album. My least favorite would probably have to be, oh gosh, 'Bug A Boo'," Kelly said, to the audience's shock. Kelly briefly hung her head in anticipation of fan's response at the admission. She quickly clarified, "It's like this one part on the bridge were I'm like, 'Ugh!'"

She didn't explicitly state what part of the chorus she did not vibe with, however. Afterward, Cohen then asked Kelly about Michelle Williams' infamous fall on 106 & Park during the group's 2004 appearance.

"What was going through your head?" Cohen inquires. 

"Oh s**t," Kelly promptly responded, which elicited raucous laughter from the crowd and Cohen. 

"I had to get my girl up but you have to keep going. She got her butt back up and she kept moving," Kelly said of Michelle's tenacity.

As the show was taking calls from viewers, one longtime fan asked if there was any truth to the rumors regarding a possible Destiny's Child reunion

If you'll recall, a report came out three months ago that R&B's most highly favored girl group was reportedly considering going on a world tour to commemorate their 20th anniversary. Likely to fans' disappointment, they "haven't talked about it." 

"We talk about everything else but that," Kelly truthfully admitted, adding that she likes the "surprise" element of when the ladies come together, such as their Coachella reunion. 

Watch the rest of the clips below to hear which Destiny Child's look was Kelly's least favorite as well as her most nerve-wracking performance.