Lack of Diversity Yielded Lowest Oscar Ratings in 6 Years
Nielsen contends that when Black nominees are left out, Black people tune out.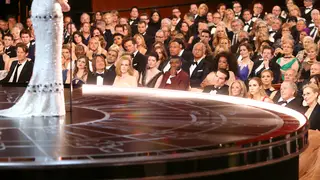 Did #OscarsSoWhite have some serious consequences for the telecast's ratings? Viewership for cinema's biggest night was down 16 percent from last year and reached its lowest point since 2009, with only 36.6 million people watching the Neil Patrick Harris-hosted awards show on ABC Sunday night.
Nielsen, the organization that monitors television ratings, speculates that the decline in viewership is directly correlated to the lack of diversity among the nominees, specifically Black nominees. As a result, Black viewers largely tuned out of the broadcast.

By comparison, 43.7 million people watched the Oscars last year, when 12 Years a Slave won Best Picture. That show, regarded among the most diverse in recent memory, had the biggest audience for any Academy Awards show since 2000.
"With remarkable consistency, African-American viewers have showed up in large numbers to watch the Oscar broadcast when it featured a strong lineup of Black nominees. But Black viewers have gone missing when the core African-American presence was diminished, as it is this year," says Nielsen data.
According to Nielsen, five times in the last 10 years, the Oscar broadcast has drawn more than 40 million viewers. And in all five instances, the Black audience was solely responsible for driving that figure above 40 million. Each of those five years included multiple Black nominees in key categories, such as Forest Whitaker, Eddie Murphy, Djimon Hounsou, Will Smith and Jennifer Hudson in 2007; Denzel Washington and Quvenzhané Wallis along with Beasts of the Southern Wild and Django Unchained in 2013.
While the Academy certainly can't blame the nominations for the sake of ratings, a more inclusive voting body would go a long way in diversifying the awards.
BET.com is your #1 source for Black celebrity news, photos, exclusive videos and all the latest in the world of hip hop and R&B music.
Click here to subscribe to our newsletter.

(Photo: Christopher Polk/Getty Images)