Cassie Confirms Pregnancy In Touching Instagram Post
And it's a girl!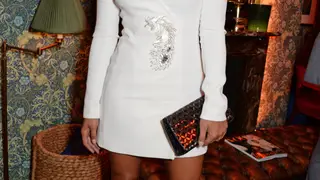 Reports surfaced recently that she was expecting her first child with her beau, Alex Fine, and on Thursday morning (June 13), the R&B singer and model confirmed the news on her Instagram in a touching post dedicated to her new family.
In the same post, she revealed that she and Alex are having a baby girl! 
"Can't wait to meet our baby girl. Love You Always & Forever," the 32-year-old shared along with a photo of them adorably booed up in a car. In the background, a pair of baby shoes are hanging over the rearview mirror. 

Alex took to his Instagram to post heartfelt notes to Cassie and their little bundle of joy as well.

"I promise you will be showered in kisses and hugs every single day," he wrote in his post dedicated to Cassie. "I cannot wait for the rest of our lives together and to raise a beautiful happy child in our beautiful happy life."

To his unborn child, Alex confessed that he fell even deeper in love with Cassie after they found out she was pregnant.

"I never thought my heart could grow bigger after meeting your mother... then I found out we were having you and I instantly felt a love that is so indescribable," he wrote. "I promise to be a man that you and your mother look up to and love. I will always listen and put the both of you first."

And now fans are over the moon! Check out their reactions to the exciting news below:

BET sends its congratulations to Cassie and Alex and wish them a healthy pregnancy as they await the arrival of their baby girl!