From Child Stars to Music Sensations: A Candid Talk With grouptherapy.
grouptherapy. discusses their evolution from child actors to indie music sensations, their creative approach & making high-concept videos on a budget.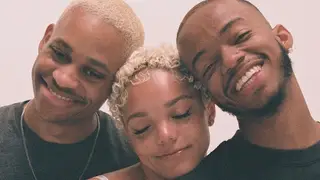 A little over a decade ago, Jadagrace (real name Jadagrace Michiko Gordy Nash), SWIM (real name Coy Stewart) and TJOnline (real name Tyrel Jackson Williams ) were kids attempting to navigate the ruthless Hollywood system in various ways. Jadagrace was a young actress who balanced acting roles in projects like 2009's Terminator Salvation while having a deal with Epic Records and, eventually Capitol Records.
She would link up with New York transplant and star of the Disney series Lab Rats TJOnline as a student at Debbie Allen Dance Academy in Los Angeles. A chance meeting at a Nickelodeon award show found TJOnline making an introduction to SWIM. This would set the stage for all three to work with each other's respective music projects as a form of therapy before officially becoming a trio appropriately dubbed grouptherapy.
Releasing several projects including both 2020 albums this is not the album and there goes the neighborhood alongside Truth Be Told last year, which allowed them to build a significant fanbase. Working more like a collaborative similar to influences like A$AP Mob or Odd Future, there's unapologetic freedom as they create music as a trio or individually. Doesn't help that their free-flowing creativity extends to music and videos like the mind-blowing choreography of "raise it up!" or the conceptual art of "blackout."
As 2023 enjoys the halfway mark, grouptherapy. has already released a handful of noteworthy singles and videos from "FUNKFEST" to "Nasty" and "Peak." The tracks appear on i was mature for my age, but i was still a child which dropped June 27th.
Speaking with BET.com, the trio explains how their experience with Hollywood at young ages prepared them for the trials of the music industry as adults, alongside filming high art on a budget and earning peer respect.
BET.com: You guys recently dropped the "Peak" single earlier this month and "Nasty" in May which is also one of my favorite videos this year. How do these singles set you up for the upcoming release of i was mature for my age, but i was still a child that dropped on June 27?
TJOnline: I think that we cover a lot of different emotions over the album, and these are three completely different flavors of things that we tackle. And we wanted to show versatility, mainly with these singles.
Jadagrace: We almost sort of mislead them in a way. At first we dropped "FUNKFEST" and we were like, okay, they're going to think we're talking a rock band or something, and then we hit 'em with "Nasty" and we just were really meticulous about how we went about those singles. We wanted to be super unpredictable.
SWIM: This was the first time that we actually selected our singles. In the past, we just had different team members in different situations and we didn't have as much say in our singles.It felt like we made a lot of decisions based off of team members input versus just listening to what the team says. We wanted "FUNKFEST" to really just kick down the door. Then I think "Nasty" was kind of a divergence to just show people we can do anything. I think when you listen to the project, there are no two tracks that sound the same.
BET.com: Speaking of "Nasty" how exactly were you able to shoot such a fantastic video with a $300 budget?
SWIM:  I think it's our past man. We grew up in the industry and so we have a really, really deep rooted background in film and just camera work and just being on set. I think it's almost to a point that we don't even realize it.
Jadagrace: They just rented this gear for the car and I was like okay. Y'all going to do this? And, they did it. They put it together and we just try things. If it doesn't work, we don't have to use it. We really do try our best with whatever we have. I'm so proud of that video. It's maybe one of my favorites.
TJOnline: We've gotten extremely good at finessing. We're so good. We knew what we wanted for each of the videos and we knew that we had our plan. We knew all the gear we needed to get to do it and we're just going to go with the flow and it's going to be natural. I think that's the first time we've ever approached videos like that. It's always been extremely structured before. It's like where we set out a schedule, shot list and everything but we were like, why are we even trying to pretend the budgets we have are bigger than they are? We got a couple hundred dollars. Let's shoot a couple hundred dollars video and make it look as cool as possible.
BET.com: What don't people understand about being an indie artist in a music industry where it's even harder to stand out than ever?
TJOnline: I think that it is either extremely expensive to be independent or you have to be very creative. The luck of being a professional music artist is having those things meet in the middle where I'm able to do what my vision is with the resources that I have while being able to be as creative as I possibly can. I think that's the thing that makes people scared in regards to industry plants through the idea of doing something cool or good is having a lot of money. That's not necessarily true. You just have to be willing to stretch your mind as far as it can go.
Jadagrace: We've had to really think outside the box and push ourselves. I think that we've done a pretty good job but it's definitely really hard. It's a really hard thing to find that sweet spot and to execute it the way you want to. I think it's something that's really misunderstood in the industry.
BET.com: You dropped Truth Be Told over a year ago. What's changed about your creative dynamic and lives from then to now?
SWIM: Since Truth Be Told dropped, we were kind of having this conversation about how much we've changed creatively and I think there's a through line. We're still the same, but I think we've grown so much. I think also TJ has really taken the reins of the sonics. I think that's the biggest difference between the last project and this one is there's a lot more cohesion in our sound than ever before.
TJOnline: This is the first project that I executively produced. My goal when making it was to do exactly what we want to do. At the end, it will be cohesive because I know what our tastes are like.  That's why there's so many genres on i was mature for my age, but i was still a child.
BET.com: You all grew up in Hollywood, which has a habit of jading artists as they get older. How has that time affected your approach to this free expression that you guys have now?
TJOnline: It gave us our work ethic. That's the thing I'm most thankful for. We can work all day every day.
Jadagrace: We have to stop ourselves sometimes. That's the thing that's hard for us.
TJOnline: Also, those experiences are the reason we are able to make this album and the reason we chose the name because that's what it was for all of us. We were mature for our ages when we started working but were still kids. It doesn't change the fact that when you're on set at 13 or so-years old, you're surrounded by adults.
SWIM: Strangely enough, I think it just made us a lot more prepared for this moment. I'm honestly grateful for it because I think we all know how crazy the industry can be and how you really have to come in with a solid concrete foundation or you will get lost. I've seen it. It's happened to us. I think that background and just being able to see it really gives perspective. That's a blessing because we're able to prepare for it. We're already prepared for it but we're able to kind of strategize on how to navigate certain things because it's all about chapters and levels.
BET.com: One of your big break-out features was with Rejjie Snow on the "Disco Pantz" joint with Tinashe. Have you noticed any other surprise fans of your music when it comes to your peers?
Jadagrace: I'd say most recently Baby Tate freestyling over the "Nasty" beat on TikTok was wild. It feels nice to be a fan of somebody that you respect and they just show the same love right back. I think that's been happening recently and it's a pretty crazy feeling. I'm so proud of us and hope we can eventually do features with people because we have many artists that we love and want to work with.
WATCH THE "FUNKFEST" MUSIC VIDEO: