Fantasia Barrino Opens Up About Past Fertility Struggles
The R&B singer is expecting her first child with her husband Kendall Taylor.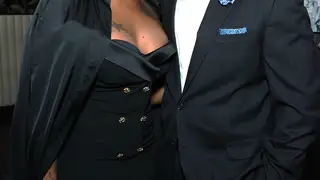 Fantasia Barrino is opening up about her past fertility struggles as she and her husband expect their first child together. 
The R&B singer and American Idol alum made a special guest appearance on The Tamron Hall Show, airing on Thursday (Dec. 17). Barrino, who is married to Kendall Taylor, said that it had actually taken her years to conceive naturally. 
"At first, we thought we were going to have to do different things," Barrino says. "This is a three-year journey we've been on."
The Grammy award-winning artist said that sought help from a doctor who first told her that one of her fallopian tubes had closed, at that time the couple decided to take a break and "let God be God."
"I kid you not, I forgot about it," she continued. "And then I woke up one night, and I was just like, 'Something's different.' "
Barrino says she took a total of six pregnancy tests and gave one of them to her husband when the results came back positive. She announced her pregnancy in late November and shared that she had looked to the Bible for guidance before she received the exciting news. 
And says that the story of Rachel from a scripture in the Bible was her inspiration. 
This will be the couples first child together. Barrino already has two children from previous relationships — Dallas Xavier, 9, and Zion Quari, 19 — and Taylor is the father to a son, Treyshaun. Barrino married Taylor in July 2015.
Watch Fantasia open up about her fertility issues on The Tamron Hall Show below: