Prosecutors To Ask Judge For Long Prison Sentence Against NYC Subway Gunman Frank James
He's expected to plead guilty to federal terrorism charges.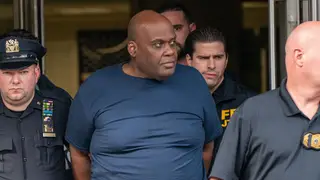 Federal prosecutors essentially want a life sentence against Frank James, who allegedly opened fire on a packed New York City subway train last April.
With James due in court on Tuesday afternoon (Jan. 3), the Associated Press reported that prosecutors alerted Judge William F. Kuntz II last week that they will ask him to hand down a sentence that exceeds the possible 39-year sentence under federal sentencing guidelines.
Defense lawyers announced on December 21 that James, 63, changed his mind and planned to plead guilty at the hearing on Tuesday in Brooklyn federal court. He was charged with an 11-count indictment that includes 10 counts of terrorist attack — one for each of the 10 people struck in the subway shooting — as well as with a firearms charge.
James is scheduled to stand trial in late February.
Prosecutors allege that James boarded a subway train in Brooklyn on April 12, put on a gas mask, and ignited two smoke bombs as the train moved with unwitting passengers aboard. As the train pulled into a hub station in the Sunset Park neighborhood, he pulled out a gun and fired 33 shots, hitting ten people. No one died in the attack. He was unable to fire more shots because his gun jammed. The police arrested James the next day in Manhattan's East Village.
His motive for the attack remains unclear. But the prosecutors alleged in their letter to Kuntz that James planned the assault for years.
James' lawyers have said he has a history of mental illness. James reportedly posted videos on YouTube in which he unleashes bigoted rants about people of various backgrounds. In the videos, he also goes on a tirade against New York City Mayor Eric Adams, accusing the city of having poor mental health services among other accusations.