NYC Subway Shooter Frank James Says He Will Plead Guilty To Terrorism
He's accused of carrying out one of the worst attacks on the city's subway system.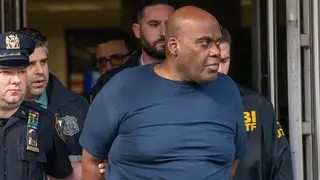 Frank James, who allegedly opened fire on a packed New York City subway train earlier this year, now admits to the terrorist act.
The New York Times reports that James' lawyers filed a letter Wednesday (Dec. 21) in Brooklyn federal court saying that he would plead guilty to 10 counts of terrorism, one for each of the 10 victims shot in the assault, and one count of discharging a firearm during a violent crime. He previously pleaded not guilty.
Judge William Kuntz scheduled a change of plea hearing for Jan. 3 after the letter was filed Wednesday. James, 63, faces a possible life sentence.
Prosecutors allege that James boarded a subway train in Brooklyn on April 12, put on a gas mask, and ignited two smoke bombs as the train moved with unwitting passengers aboard. As the train pulled into a hub station in the Sunset Park neighborhood, he pulled out a gun and fired 33 shots, hitting ten people. No one died in the attack. He was unable to fire more shots because his gun jammed. The police arrested James the next day in Manhattan's East Village.
His motive for the attack remains unclear. However, James' lawyers have noted that he has a history of mental illness. James reportedly posted videos on YouTube in which he unleashes bigoted rants about people of various backgrounds. In the videos, he also goes on a tirade against New York City Mayor Eric Adams and the city's poor mental health services.
His court-appointed attorneys argued in November that James could not get a fair trial in Brooklyn because of biased media coverage and the negative comments of city officials, prompting them to file a motion to relocate the trial, perhaps to Illinois.
On Tuesday (Dec. 20), James' lawyers requested a trial adjournment because of the prosecutor's delays in producing evidence. The trial is currently scheduled for late February.