NFTs Explained: How the Music Industry and Black Creatives Are Reshaping the Game
If you haven't noticed yet, there's a digital revolution happening in hip hop thanks to cryptocurrency.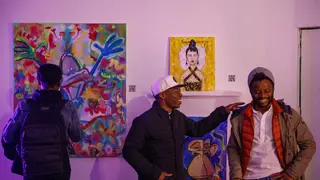 If you haven't noticed, there's a revolution happening in hip hop thanks to NFTs. Everyone from legends like Jay-Z and Eminem to new superstars Lil Baby and Gunna has purchased NFTs. But, hip hop's involvement in the burgeoning NFT space extends beyond switching their Twitter avatars to lethargic-looking digital apes. In the last year, NFTs have grown from the latest internet trend to a blueprint for the future of the music industry.
BET.com decided to round up all the pertinent information for you to understand what is happening in the NFT space for hip hop artists, labels, and Black creatives.
What Are NFTs?

NFT stands for "non-fungible token," which means it is a unique one-of-a-kind item that can't be replaced. A special Michael Jordan rookie card only made once would be considered non-fungible because you can't trade it for a duplicate since no other versions exist. NFTs are created by a process known as "minting," and can be created on different blockchains which are pubic digital ledgers tracking all activity relating to ownership, sales, transfers, etc. You can screenshot a photo someone put up for an NFT but it would be the same as taking a photo of a Gordon Parks photo being sold in a gallery. You may have a visual duplicate of the artwork, but the blockchain proves who the owner of the original art is, resulting in a higher value than the photo you took on your phone.

Most NFTs exist on the Ethereum blockchain which allows for them to be created with protocols considered "smart contracts." Smart contracts are essentially rules built-in to the NFT that execute when certain actions take place. The most common smart contract protocol in the NFT space are royalties where NFT sellers can automatically receive a percentage of every sale of their NFT even after they've sold it. If you sell an NFT for $100 and the person you sold it to sells it for $2,000, smart contract protocols will allow you to get a percentage of that $2,000 sale automatically.

To incentivize people to buy NFTs, its creators sell more than just the art. Bored Ape Yacht Club is the NFT collection that popularized the medium across the world, counting Stephen Curry, Mark Cuban, Justin Bieber, Future, Gunna, and a myriad of other celebrities as holders of a Bored Ape NFT. Those who hold those NFTs are invited to exclusive meetups with other Bored Ape holders, including a weeklong Ape Fest in New York City consisting of attending an actual yacht party featuring appearances by Lil Baby, the Strokes, Questlove, Beck, Chris Rock, and Aziz Ansari. The membership exclusivity of Bored Ape Yachty Club has been used to propel itself to international acclaim and now is a primary part of how hip hop has seen unprecedented success in the NFT space.

How Have Artists Embraced NFTs

Music artists and labels have mostly used NFT technology to reinvent the paradigms of the industry since royalty rates from digital streaming platforms are so low, it's hard for artists to make money off simply selling music. Artists like Tory Lanez, Snoop Dogg, Eminem, and Nas have made their music available as NFTs in some form or fashion over the last year. Nas partnered with 3Lau's NFT platform Royal to turn his songs "Ultra Black" and "Rare" into NFT tokens which give its holder ownership of a percentage of the streaming royalties from the song they purchased as an NFT. Lanez sold NFTs of his album When It's Dark for $1 each, and reportedly sold one million copies in less than a minute, which would make When It's Dark his first platinum-selling album if Billboard and the Recording Industry Association of America counted NFT sales as album sales. Rappers like Kyle and Meek Mill have plans to release albums as NFTs, but it'll be hard for them to use the NFT platform as effectively as Snoop Dogg.

Tha Doggfather maximized the earning potential of his 19th studio album Bacc on Death Row earlier this year by allowing fans to collect the 17 songs of his album as individual NFTs he called "Stash Boxes." Each Stash Box cost $5,000, more than 400xs the price to download the entire album on iTunes, but holding at least one Stash Box gains access to a bevy of perks yet to be determined. Having the full 17-song collection of Stash Boxes unlocks access to a custom chain, private concerts, such as BBQs at Snoop's home, and more. Similar to Bored Ape Yacht Club, owning one of Snoop Dogg's Stash Box NFTs was described as getting  "lifetime membership to an elite club" in the press release.

Snoop was able to sell the possibility of hanging out with him as part of his NFT because he developed an internationally recognized brand. Rappers aren't simply using NFTs to increase revenue from music releases, they're also selling access to the same celebrity they possess that translates into millions of social media followers but not always millions of dollars. Such is the case with the rapper Azealia Banks. Known more for her tabloid exploits than her music, she has turned our fascination into her private life into a first-of-its-kind NFT sale of a 24-minute audio sex tape between her and conceptual artist Ryder Ripps. Post Malone sold NFTs that gave holders the opportunity to play against him in his Celebrity World Pong League three months after debuting the league on Facebook Watch. Cypress Hill's B-Real has built a 30+ year career partly on being a cannabis trailblazer in the hip hop space and sold NFTs that gave holders the opportunity to have a smoke session with him. This impressive display of business ingenuity has not only benefitted the artists who are cashing in on the NFT wave, but also the record labels who are fighting to remain in the black in the Digital Age.

How Have Record Labels Entered The NFT Space

As far as labels are concerned, NFTs could help them recoup the money they lost during the last few years of the global pandemic which has forced these places to rethink everything. With everyone stuck at home, fans' connections with artists were largely digital, so Warner Music Group partnered with avatar technology company Genies in April 2021 to allow its artists to "produce and distribute virtual beings that facilitate fan reach across immersive platforms and metaverses," according to a statement announcing the partnership. Three months later, and after a year of virtual concerts replacing in-person shows, Roc Nation decided to invest in the future by purchasing an undisclosed amount of crypto tokens from social virtual reality platform Sensorium Galaxy, a company aiming to usher the music industry into the metaverse with VR concerts, in July.

In the five months after Roc Nation's move, Sony Music Entertainment has invested in NFT marketplace MakersPlace and launched a Baby Shark NFT collection. Two months after Sony's Baby Shark venture, Universal Music Group proactively financed the music industry by being the first major music label to partner with NFT platform Curio as a home for its artists' future NFT projects. At the start of 2021, record labels were virtually non-existent in the NFT space. By mid-February 2022, the biggest record labels had legitimized the NFT space within the music industry by establishing foundational footholds in the space.

For other legacy record labels, the NFT space has been an opportunity to commemorate their history. To celebrate Death Row Records' 30th anniversary in November 2021, the label released seven unique NFTs featuring digital renderings of the iconic Death Row Inmate figure from its logo, and collaborations with NFT artist Tilla Vision, all containing snippets of songs from Snoop Dogg's Doggystyle album. Three months later, Snoop acquired Death Row with expressed plans of making it an NFT label that'll be "​​putting out artists through the metaverse," according to his statements on the Clubhouse app on Feb. 15. NFT record labels such as MoonwalkerFM already exist, and they allow artists to link songs traditionally released on streaming services to unique NFTs that give its holders a share of the streaming royalty of the songs, which incentivizes the holder to promote the song in order to increase their monthly reward.

What's the Money Like?

NFTs have proven to be highly lucrative for the music industry if done authentically. Snoop made $44 million in five days by only selling 8,000 of the 25,000 Stash Boxes he released at a price of $5,000 each. Lanez celebrated making $1 million in less than a minute when his When It's Dark album was made available as an NFT. Lil Yachty made $16,050 in a few hours of auctioning his own digital collectible known as the YachtyCoin. In less than 10 days, Nas's NFT drop grossed $560,000 in sales. Even Azelia Banks's audio sex tape sold for roughly $18,000. Doja Cat admitted she knew nothing about NFTs, and her first NFT collection still sold for $188,888. Soulja Boy made $69,752.44 in 24 hours of selling five editions of his first-ever NFT named after his "Crank Dat," his biggest hit as an artist.

Even artists without massive Billboard hits are reaping the rewards of selling their art as NFTs. A$AP Twelvvy released a visualizer for one of his songs as an NFT on April 18, 2021, and sold it for $3,599 less than five days later. To make that same amount of money on Spotify, he'd have to generate more than 1.1 million streams. "The NFT space means freedom. As long as you can cover the gas fees, you can make whatever you want to happen no matter if it's audiovisual or even a life-changing campaign. It's all at our fingertips," Twelvvy told BET.com exclusively.

Artists of all popularity levels have been raking in the type of money selling NFTs that would require hundreds of millions of streams to make the same goal. That same paradigm shift in the music industry extends to other Black creatives, as well.

Black Creatives Benefiting From NFTs

When 2021 began, Elise Swopes was a visual storyteller who didn't know the first thing about minting NFTs or blockchain technology. On Feb. 24, 2021, she minted her first NFT without knowing that doing so meant it went public for people to bid on. By March 3, she sold the NFT for $17,632 without any promotion. By the end of her first year in the NFT space, the 31-year-old Black creative sold more than $200,000 worth of NFTs and changed her life for the better. She's proof of the barrier-breaking potential NFTs have for Black creatives. "I feel like I'm in a renaissance of art. That's not to say it's perfect. We're cultivating this safe space for each other to continue educating each other about the access, equity, and innovation in this space," Swopes told BET.com.

The traditional art world has historically kept Black artists from being prominent. Weeks before Swopes officially entered the NFT space, The Indianapolis Museum of Art at Newfields posted a job listing looking for a director who will attract a more diverse audience while also maintaining the museum's "traditional, core, white art audience." While racist gatekeeping still exists in the technology space as well, the anonymity and community building NFTs are predicated on allow for Black creatives to amass the wealth necessary to no longer depend on wealthy white art collectors for funding. Rapper Latasha went from making $100-$700 for a live performance to selling music videos as NFTs for upwards of $30,000. Photographer Brittany Pierre never had a job where she made over $15 an hour before she made $100,000 in 2021, her first year selling NFTs. In a world where only 4% of cryptocurrency investors are Black women, these three are shining examples of the potential NFTs have for helping Black women enter into financial independence without pandering to white people.

"We don't have to play that f*****g game to get funds from people. Now we can speak up and call s**t out because we have what we need to play," Swopes said.

The traditional gatekeeping of the art world is virtually non-existent in the NFT space. Instead of hoping your art gets accepted in galleries run by historically white institutions like Southeby's, a Black creative with a computer, internet connection, and art they want to share can have their work on the same platform as other digital creations that have sold for hundreds of thousands of dollars. Since the NFT space is digital, a Black creative doesn't need to attach their face to their projects, running the risk of art buyers shying away from purchasing directly from a Black artist. There are art collectives dedicated to promoting and funding Black artists and a variety of communities banding together to create self-sustaining networks where Black creatives can make money without the trappings of the traditional art world. Swopes started Sunrise Art Club on Jan. 1 of this year and has generated more than $30,000 in less than two months by selling NFTs of sunrise photos she took in her apartment building. "75% of those sales go to our fund which is dedicated to funding different projects that involve women of color," Swopes said.

Whether it's major label artists, independent Black creatives, or multi-billion dollar record labels, NFTs have significantly changed how we view the music industry, and it doesn't look like it's stopping anytime soon.

Keith Nelson Jr. is a culture journalist who has connected the dots to form the bigger picture at publications like Men's Health, Mic, Complex, REVOLT TV, VIBE, BET, Grammys.com, and Okayplayer. Catch his thoughts in real-time on Twitter at @Jusaire.