Damn, Girl: Keke Wyatt Goes On Another Emotional, Epic Instagram Rant About Her Broken Marriage
The singer and reality star is nine months pregnant.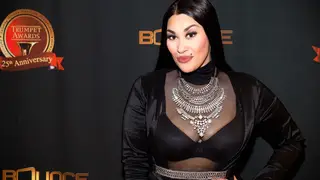 The ongoing saga between KeKe Wyatt and her estranged husband Michael Jamar gets messier and messier by the day. The most recent development comes as a teary eyed KeKe disputed her exes claims of her being "toxic" in a 37-minute long Instagram live video.
Wyatt, who is currently 8-months pregnant with her 9th child, explained, "One thing I'm not is I'm not crazy. I'm not toxic and I'm just human, you know?"
Despite the stress of divorcing while pregnant and caring for a child fighting cancer, Wyatt still remained optimistic.  "Pregnant and all, emotional and all, child going through cancer and all, it's all going to work itself out because I'm about to start my life over. I'm about to get everything that I've been wanting to do done and I've got a mission."
Hinting at a possible return to reality television she added, "I still got my show coming for y'all and I'll be an executive producer and can't nobody portray me no other way than how I really am and who I really am. Period! You'll see the true me and get what and who I really am."
Although KeKe Wyatt and Michael Jamar have been extremely vocal about the end of their marriage, neither party has filed any documentation for a legal separation or a divorce. Maybe there's some small hope for a reconciliation after all?