Look: White Man Attacks 15-Year-Old Autistic Runner Because He Thought He Was a Criminal
Details on if 57-year-old Martin MacDonald will face punishment.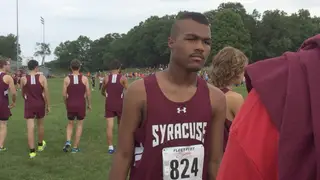 While running in a 5K race for the Corcoran High School cross-country team, Chase Coleman —who is 15 years old and autistic — was assaulted by a man who believed he was a mugger, reported the Washington Post.
As Coleman ran the Rochester race, he was approached by 57-year-old Martin MacDonald, driving in his car. At one point MacDonald exited his vehicle and assaulted him.
"Get out of here,'' MacDonald yelled as he shoved Coleman to the ground. He then got back into his car and sped off.
This all happened while Coleman's mother, Clarise, waited for her son to cross the finish line. When she noticed he never came, she took off and started to look for him.
Clarise eventually found her song walking with a bicyclist who was assisting him.
"I asked, 'Is Chase OK?' " Clarise told the Washington Post — noting that it sometimes helps their communication when she refers to him in the third person.
When she realized his back was hurting, she then asked witnesses what occurred.
"I see a grown man, who is quite tall and fairly heavy...exit the vehicle and give this young man a shove that puts him back 10 feet and flat on his butt,'' Kris Van Metter, 42, who was in Rochester visiting relatives told Syracuse.com. "Like, just shoved him across the road. The kid didn't seem to be doing anything but standing there, obviously had nothing in his hands, and weighed all of 130 pounds. This [MacDonald] guy was easily twice that."
Van Metter was able to catch MacDonald's license plate tag. When Clarise phoned the police and they tracked down MacDonald, they asked him if he had assaulted Coleman.
MacDonald explained that his wife was in the front seat of the car at the time, and they previously had been the victim of an attempted carjacking. Although Clarise explained that Chase is not physically capable of such behavior, Rochester City Court Judge Caroline Morrison still decided that no charges would be brought against MacDonald.
Since the incident, Chase has exhibited signs of trauma and has shifts in his mood, said Clarise. He turned in his running uniform and left the cross country team. It takes much effort for Clarise to remind her son that he did nothing wrong and that he is safe.
"We just keep telling him, 'You didn't do anything wrong. Chase is good. There are mean people and there are nice people, and this person was just a mean person,' " Clarise said. "We just keep apologizing to him that that happened. Especially me. I kept apologizing to him that I couldn't keep him safe."
There's been no update as to whether a new investigation surrounding MacDonald will occur. Additionally, no outlets have reported any type of apology from him.