Watch: Defensive Oakland Warehouse Organizer Apologizes During Tense Interview Questing His Responsibility
"I'd rather be trampled by the parents."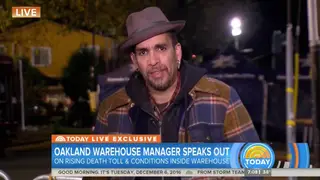 After the devastating fire that took at least 36 lives, parents and California residents are demanding answers from the man behind the "Ghost Ship" party.
Derick Ion Almena, 46, was responsible for leasing out the Oakland Warehouse where the fire took place. In an interview with The Today Show, Almena became angry and defensive when Matt Lauer and Tamron Hall pressed him about whether he ignored fire codes and regulations. 
When asked if he is to blame for the fire, Almena told the reporters, 'I'm not going to answer these questions.'

Since his identity was publicized, many have blamed Almena for the deaths and injuries of the 'Ghost Ship' attendees

Many also criticized Almena for a bizarre Facebook post that was published after the blaze

Some have even come forward to speak on Almena's negligence when it came to the warehouse

Although it is still unclear whether he will face charges, many believe that it is inevitable