Senate Confirms Jeh Johnson to Head Homeland Security
Former Defense counsel Jeh Johnson confirmed by Senate to serve as Secretary of Homeland Security.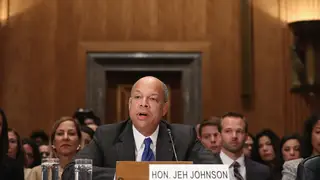 Senate Majority Leader Harry Reid is wasting no time putting into action the so-called nuclear option, which allows a simple majority of 57 votes, instead of 60, to end debate on presidential nominations, to move President Obama's nominees forward in the march to confirmation. By a vote of 57-37, the Senate on Monday used the procedure to end GOP delaying tactics to block Jeh Johnson's nomination to head the Department of Homeland Security.

Minutes later, the Senate overwhelmingly confirmed him by a 78-16 vote.
Since restoring majority rule to the Senate confirmation process, 13 executive branch and judicial nominees have been confirmed in the past week.

"Jeh has been a critical member of my national security team, and he helped to shape some of our most successful national security policies and strategies," Obama said in a statement. "As Secretary of Homeland Security, Jeh will play a leading role in our efforts to protect the homeland against terrorist attacks, adapt to changing threats, stay prepared for natural disasters, strengthen our border security, and make our immigration system fairer — while upholding the values, civil liberties, and laws that make America great."
Johnson will replace former Secretary Janet Napolitano, who left to head California's public university system. He was nominated by Obama in October. Johnson served on the president's original transition team and as the Defense Department's general counsel for much of his first term. He also was general counsel to the U.S. Air Force under former President Bill Clinton.

BET Politics - Your source for the latest news, photos and videos illuminating key issues and personalities in African-American political life, plus commentary from some of our liveliest voices. Click here to subscribe to our newsletter.
  (Photo: Chip Somodevilla/Getty Images)