5 Things We Want To See In The 'Black Panther' Sequel
Our wish list for T'Challa and Wakanda's next chapter.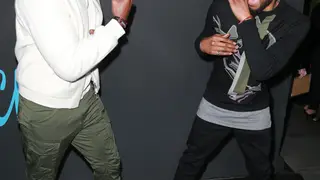 There are three things you can count on: death, taxes and the Black Panther once again ruling the box office. For the fourth week in a row, the Ryan Coogler-directed Marvel Studios-Disney landmark ranked as the number-one movie in the country, crossing the $1 billion in worldwide ticket sales.
Following its history-making success, the first predominantly all-Black superhero film has officially gotten the green light for a sequel from Marvel Studios president Kevin Feige. So what should part two of the biggest movie and pop culture event of 2018 look like? We came up with a list of five things that will ensure a massive return for the Black Panther and his Wakandan crew. Just cut the check.
More Shuri Being Beyond Genius

Think about it. In Marvel's cinematic world Shuri is actually smarter than Tony Stark (!!!). Not only is she the brilliant mind behind Black Panther's jaw dropping tech, but she's also responsible for Bucky's drastically enhanced vibranium arm as well as Captain America's much improved, highly advanced shield—both previewed in the trailer for the much-anticipated Avengers: Infinity War (April 27).

There's no doubt that Shuri will have ample spotlight to show off more new toys and mind-bending weapons and continue to make fun of T'Challa's dubious choice of footwear. As for the talk that she will take the reigns as the next Iron Man (in the latest book, Riri Williams, Shuri's 15-year-old intellectually superior doppelgänger, creates her own armored suit to fight crime, with the blessing of Stark's nurturing team) that remains to be seen. But anything can happen, right?

Black Panther Teaming Up With Other Black Marvel Heroes

T'Challa can't be the only high profile black superhero in Black Panther's monumental return. Sure, the King of Wakanda has formidable back up, led by his aforementioned kid sister Shuri, the most brilliant mind in Marvel's cinematic universe. There's the on again/off-again girlfriend and two-fisted undercover spy Nakia; and the fierce Okoye and her all-female special forces Dora Milaje. But could you imagine the Black Panther sharing the big screen with War Machine or Falcon for just a sequence? Or let's go next level. How about a brief appearance by everyone's favorite half vampire-half human bad a** Blade, the stake-wielding character responsible for kicking off Marvel's record-breaking big screen run?

There are also reports that Monica Rambeau will be showing up in the much anticipated debut film headlined by Captain Marvel due out March 8, 2019. The energy absorbing New Orleans native (and hero formerly known as the second Captain Marvel) would be a cool curve pitch and a nod to the '80s era Avengers. And since Disney, the parent company of Marvel Studios, is in the process of merging with Fox, let's go for broke and include the X-Men's beloved weather controlling mutant Storm, who was once married to T'Challa in the comic book. Make it happen Marvel.

Establishing a Wakandan technological center in a housing project in Oakland, California shows that Marvel has big plans for Black Panther outside his mythical African homeland. This presents some interesting story lines that will no doubt expand on the complex diplomatic and political duties of T'Challa. There's only so many times we can follow the King to the United Nations and witness him give another heartfelt speech about building bridges as he attempts to open up his secretive homeland to the rest of the world.

Having the Panther run into other heroes (or bad guys) on their own turf would add another dimension to the blockbuster film series. Besides, any excuse for the Black Panther to run into Dr. Doom in the powerful, armored despot's country of Latveria where he rules with an steel fist (Marvel's greatest villain deserves better after Fox's criminal handling of him in the Fantastic Four films) pretty much works for us.

Re-Introduce The Fantastic Four

OK, this is for the serious comic book heads. It was in the July 1966 issue #52 of the Fantastic Four that Marvel's first black crime fighter, Black Panther, made his history-making debut. So how cool would it be to resurrect literally Marvel's first legit superheroes, the team of Mister Fantastic, the Human Torch, the Thing and Invisible Woman, in the next Black Panther film? What's that you say? The Fantastic Four are trash!!! Yeah, we get it. 20th Century Fox, since the release of the laughable self-titled 2005 film, has epically fumbled Marvel's First Family.

A lukewarm 2007 sequel (the lone bright spot being the Hollywood introduction of the Silver Surfer) and a 2015 bomb of a reboot, which ironically enough featured BP's Michael B. Jordan as Johnny Storm, has done major damage to Stan Lee's and Jack Kirby's signature title. Again, Disney's pending deal with Fox could open up the door for the Fantastic Four to finally enter the Marvel Studios universe. Yes, it's a pipe dream. But just imagine the Black Panther stumbling across the FF's spaceship after crash landing somewhere in Wakanda. Fanboy/fangirl heaven.

Introduce T'Challa's Next Foe: Achebe

So how do you top Erik Killmonger, one of Marvel's greatest film villains? You unleash utter destructive insanity in the form of Acheba, first unveiled in Christopher Priest's and Mark Texeira's excellent 1990's Black Panther reboot. Imagine a cross between Batman's greatest foe the Joker (but a Yale Law graduate who is infinitely more intelligent) and a demon spawn that sold his soul to Mephisto (Marvel's resident Devil). Acheba is just as power hungry as he is bat sh** maniacal and is known to carry a hand puppet replica of himself.

And since Acheba is a master manipulator he might as well be the one to transform social media favorite M'Baku into the Man-Ape baddie (sorry ladies), who since his 1969 introduction has tormented everyone from the Black Panther, the Avengers and Luke Cage, and has even teamed with Jessica Jones' chief nemesis Purple Man. Or maybe he could hire Kraven the Hunter (one of Spider-Man's rogues gallery of evil adversaries) to track down and attempt to take down T'Challa. Bring it on.   

Bonus: We need a cameo from this little guy as a member for the Jabari tribe!