Cam'ron's Longtime Girlfriend Tawasa Harris Passes Away [Report]
The rapper hasn't yet publicly addressed the tragic death.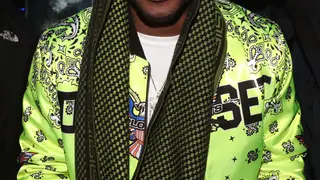 Tawasa Harris, the longtime girlfriend of Cam'Ron, has reportedly passed away.
Details on how Harris passed away are still unclear, however her death was confirmed by Latanya Marie, a self-described close friend, who took to her Facebook page to pay tribute.
"R.i.p Tawasa... I didn't sleep all night bc of all the old memories that kept poppin in my head of all the fun times we all had back in early 80'w/ my Cousin Teresa (r.i.p) how she would bring me down the bottom to your house and we would go up to Southwest Philly It was my first introduction to the the fast life - 💯 a.k.a the streets," she captioned a post that included pictures of Harris. "You Definitely lived by the words. "Fly 2 I die". Say Hello to Tree 4 me❤️ in heaven."
Cam'ron has yet to publicly address the death. He and Harris made their relationship Instagram official on New Year's Eve 2019, after successfully attempting to rekindle their bond.
The Dipset founder split from Juju in 2017 and announced that he and Harris were trying to work on their relationship.
In 2018, Cam'ron paid tribute to Harris with a touching tribute on Instagram where he described her as "tuff" and "cute." He also touted her has a great mother to their son. The post also included video of Cameron Ezike Giles Jr.'s graduation from high school, after which father and son surprised Harris with a new Range Rover and several designer luxury items.
Our condolences go out to Tawasa Harris family and friends during this most difficult time and we'll keep you updated as more details surrounding her death become available.