Who's Lying? Kenya Moore's Boyfriend Has a Side Chick Making Serious Accusations
There are receipts.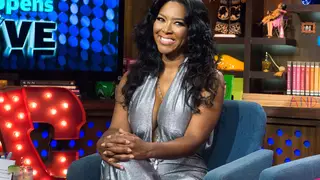 Kenya Moore's love life is getting harder to keep track of than Katt Williams's rap sheet.
The reality star's on-again, off-again relationship with Matt Jordan just got a lot more complicated thanks to a new woman who claims she's the one coupled up with the reality star's ex — and has been for months. As for Moore, she has maintained as recently as last week that despite her and Jordan's volatile relationship, they're still very much together. Sooo... who's lying?
Gossip blog Fameolous posted side-by-side convos telling two very different stories: on the left, Kenya and Matt's alleged (and very NSFW) text conversation right after Thanksgiving dinner. On the right, a series of messages from Jordan's new flame claiming they're not trying to hide their relationship and that Kenya is playing herself by acting like they're together in the press:
One thing's not up for dispute: Matt certainly has a type. Check out his rumored new bae, who shares many similar features with Kenya, below:
Guess we'll have to wait for the reunion special to find out what's really going on.
Catch Kenya talking about Matt on The Real, above.