UPDATE: Tory Lanez Denied New Trial
The Toronto rapper had previously been appealing for another day in court after his attorneys claimed bias in his first trial.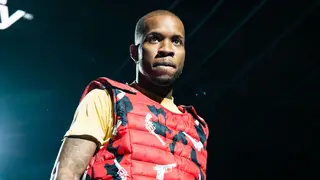 On Tuesday (May 9), the L.A. County Superior Court ruled against Tory Lanez's motion for a new trial after being convicted of shooting Megan Thee Stallion in December.
According to Law & Crime reporter Meghann Cuniff, Judge David Herriford denied the Toronto rapper's request for a new trial.
Additionally, Cuniff reports that Lanez's attorneys "filed a motion to disqualify Judge Herriford from Lanez's case, then told the judge they didn't think he could issue his ruling until the motion was resolved," to which the judge disagreed before dismantling each of the seven reasons the rapper's defense provided as reasons for a new trial.
On Monday (May 8), Tory Lanez pleaded with a judge for a new trial and to not "ruin" his life.
In December, the Toronto rapper was found guilty of shooting Megan Thee Stallion, which he has since vehemently denied and fought against through appeal.
According to Law & Crime reporter Meghann Cuniff, Judge David Herriford adjourned a long hearing Monday, during which both sides made their cases, including Lanez, who pleaded with Herriford, saying, "I could be your son, I could be your brother."
"Court just let out for the day," Cuniff tweeted Monday. "Judge Herriford is going to issue his ruling tomorrow at 10:30 a.m. Tory Lanez spoke to him before he was led out in handcuffs. 'Please don't ruin my life. I could be your son. I could be your brother,' Lanez told the judge, who is Black. There wasn't a commotion. A sheriff's deputy was urging Lanez to shut up but it wasn't a big thing. Herriford didn't say anything back and Lanez was led out of the courtroom without incident. This followed loooong argument this afternoon. More details soon."
Additionally, the reporter detailed some of the arguments made by Lanez's defense team when requesting a second trial. One of those was defense attorney Jose Baez's assertion that the love triangle between his client, Megan and Kylie Jenner hurt the defense unfairly.
That notion, according to Baez, was swept up in the district attorney's narrative that Lanez is a misogynistic rapper. That runs contrary to his defense during last year's trial that hinged on Megan's friend Kelsey Harris being the shooter out of jealousy over their "shared romantic interest."
On Dec. 23, Lanez was found guilty of all three of his charges, including felony assault with a semiautomatic firearm, possession of a concealed, unregistered firearm; and discharging a firearm with gross negligence, over the July 2020 shooting that took place after a Hollywood Hills party.